North Indan Recipes >Raw banana paratha | Kacha kela ka stuffed paratha | Stuffed indian flatbread-Easy & quick lunch box recipe
Raw banana paratha | Kacha kela ka stuffed paratha | Stuffed indian flatbread-Easy & quick lunch box recipe

By
Sridher
Cuisine Style: North India | Preparation Time: 15 minutes | Cooking Time: 5 minutes | To Serve: 2 | Take with: Kurma, raitha, pickle | Type: Breakfast, Lunch, Dinner
Ingredients
Raw banana[Vazhakkai, kacha kela] – ½ cup or 4 tbsp
Onion – 1 [finely chopped]
Green chilli – 1 tbsp [finely chopped] for kids [ ¼ tsp]
Ginger & garlic– 1 tbsp [chopped]
Turmeric powder – ¼ tsp
Red chilli powder - ¼ tsp
Garam masala powder – ½ tsp
Coriander leaves – 2 springs[finely chopped]
Dry mango powder – ¼ tsp (or) lemon juice - 1 tbsp
Salt to taste
Oil – 1 ½ tbsp
Butter or ghee – 1 tbsp
For dough
Wheat flour – 2 cups
Curd – 2 tbsp
Salt to taste
Oil – 1 tbsp
Water as needed
Preparation Method
Wash & boil raw banana with turmeric powder, salt & 1 tbsp of oil in a pressure cooker for 3 to 4 whistles.
Then peel off the skin & finely chop.
In a bowl add chopped raw banana, onion, green chilli, ginger, garlic, red chilli powder, garam masala powder, dry mango powder, coriander leaves & salt mix well.
In a bowl add wheat flour, curd, salt & pour oil mix well. Then add water Knead it and make soft dough. Cover it & leave it for 15 min.
Divide the dough into equal size balls. Then roll out into thick chapatti or puri.
Stuff each thick chapatti with 2 tbsp of stuffing mixture & shape into a ball again.
Sprinkle flour then roll out each ball in to 6 to 7 inch circle shape paratha.
Heat iron dosa tawa then place stuffed paratha on it & add 1 tsp butter on it.
Turnover and cook another side & add 1 tsp of butter on it.
Cook till both sides are golden brown & well cooked.
Then cut off heat serve hot with pickle, raitha or sliced cucumber.
Vazhakkai stuffed paratha recipe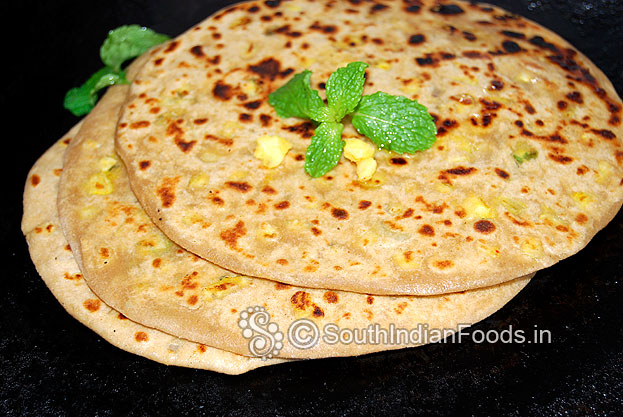 Kacha kela ka stuffed paratha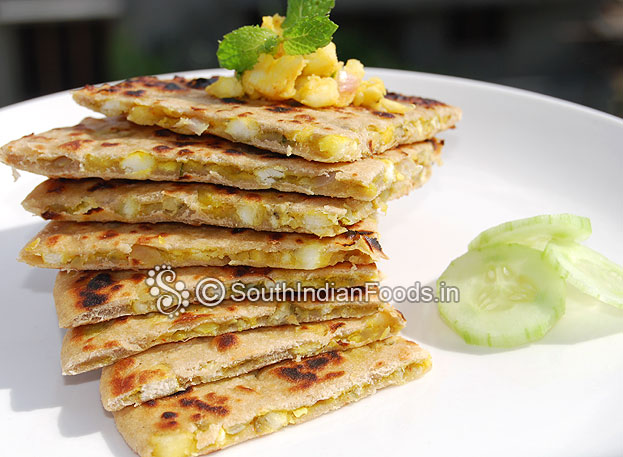 Rate this recipe
You may also like these recipes

Gooseberry pickle
Gooseberry [Amla, Nellikai, Ribes uva-crispa] – 10...
Read More >>

Raw banana kofta curry
Raw banana – 1 [boiled...
Read More >>

Lemon pickle
Lemon – 9. Gingelly oil – 50 ml. Mustard seeds – 1 tbsp...
Read More >>

Tomato chutney
Tomato – 3 [chopped]. Onion – 2 [sliced]. Coconut – 1 tbsp...
Read More >>

Bird nest recipe
Potato – 3. Corn flour – 2 tbsp. Bread crumbs – 1 tbsp...
Read More >>

Chilli pepper masala noodles
Boiled noodles – 1 cup...
Read More >>

Spinach wheat rava pongal
Wheat rava [Godhumai...
Read More >>

Verkadalai puli kuzhambu
Peanuts[Verkadalai,...
Read More >>

Delhi carrot halwa
Delhi carrots [red]-2 cups [finely grated]. Ghee...
Read More >>

Carrot payasam
Delhi carrots [red]-1 cup [finely grated]. Ghee...
Read More >>

Masala dosa
Dosa batter *– 1 cup. Potato [urulai kizhangu...
Read More >>

Nenthra pazham payasam
Nenthra Pazham [Banana]...
Read More >>

Moong dal ladoo
Moong dal – 1 cup. Green Cardamom powder..
Read More >>

Potato paneer gulab jamun
Potato[Aloo, Urulaikizhangu...
Read More >>
Recipes by Categories