Sweets / Desserts >Ragi rice flour sweet pidi kozhukattai | Kezhvaragu arisi maavu pidi kozhukattai
Ragi rice flour sweet pidi kozhukattai | Kezhvaragu arisi maavu pidi kozhukattai

Cuisine Style: South india | Preparation Time: 8 | Cooking Time: 5 | To Serve: 4 | Type: Sweet, dessert, ganesh chathurti special
Ingredients
Rice flour – ¼ cup
Ragi flour – 1 cup
Jaggery – ¼ cup
Cardamom powder – ½ tbsp
Coconut – 1 cup [grated]
Water as needed
Preparation
Take rice flour in a thick big pan; add water & salt mix well.
Heat pan then pour rice flour mixture & stir consistency in medium heat (to avoid lumps) till you get chapatti dough consistency.
Take rice flour dough, ragi flour, grated coconut, Jaggery, cardamom powder in a bowl and mix well, then sprinkle water & make dough.
Divide the dough in to equal size balls. Take a ball & place it in palm then press using 4 finger to get pidi kozhukattai shape.
Then steam it for 5 to10 minutes in a steamer (idli cooker or idli koppar).
Kezhvaragu arisi maavu pidi kozhukattai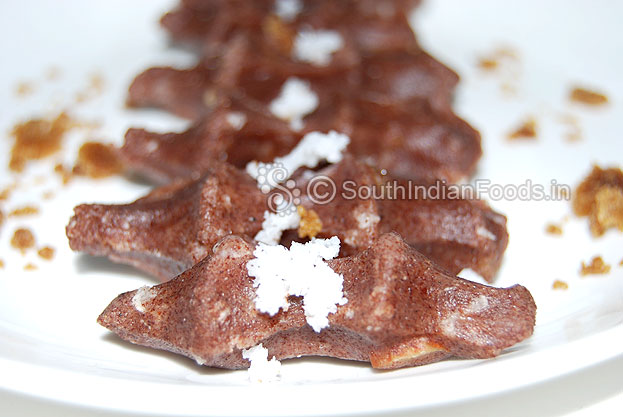 Rate this recipe
You may also like these recipes

Crispy onion rings
Onion – 2 [cut into rings]. Besan [gram flour...
Read More >>

Crispy okra
Slice okra [ladies finger] alongside and cut...
Read More >>
Vangi Bhath
Cut brinjals into cubical shape. Heat oil in a pan and...
Read More >>

Kollu rasam
Kollu [Horse Gram] – ¼ cup. Onion – ½ [sliced...
Read More >>

Crispy rava dosa
In a bowl take rice flour, maida, rava, curd and...
Read More >>

Gujarati Aloo
Baby potatoes – ¼ kg. Cumin powder – 1 tbsp...
Read More >>
Recipes by Categories