Purple cabbage paniyaram

Cuisine Style:South india | Cooking Time: 8 minutes | To Serve: 2 | Type: Breakfast, dinner Take with: Coconut chutney, green chutney
Ingredients
Paniyaram batter – 1 cup
Purple cabbage – ¼ cup [finely chopped]
Green chilli – 1 [finely chopped]
Carrot – ¼ cup [finely chopped or grated]
Onion – 1 [finely chopped]
Curry leaves – 2 springs [finely chopped]
Mint leaves – 2 springs [finely chopped]
Coriander leaves – 2 springs [finely chopped]
Bengal gram – ½ tbsp
Mustard seeds – 1 tbsp
Urad dal – ½ tbsp
Salt to taste
Oil – 3 tbsp
Preparation
Heat oil in a pan, add mustard seeds & let it splutter. Then add Bengal gram, urad dal, onion sauté. Then add curry leaves, carrot, green chilli, red cabbage sauté gently[1 min] then cut off heat & add mint leaves mix well.
Take paniyaram batter in a bowl, all the sautéed ingredients, coriander leaves & mix well.
Heat paniyaram tawa (Iron casting tastes better than other material) & grease with oil then pour batter. Cover lid and cook for 2 min.
Flip over and pour 1 tbsp of oil around the paniyaram then again cook for 2 min.
Cut off heat. Then transfer to serving plate. Serve hot with coconut chutney or sambar.
Red cabbage carrot kuzhi paniyaram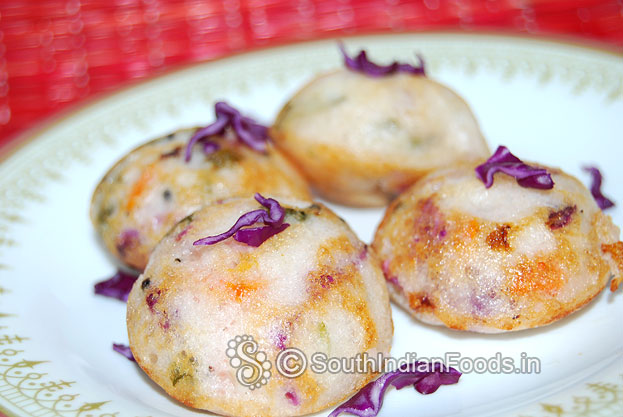 Iron Paniyaram pan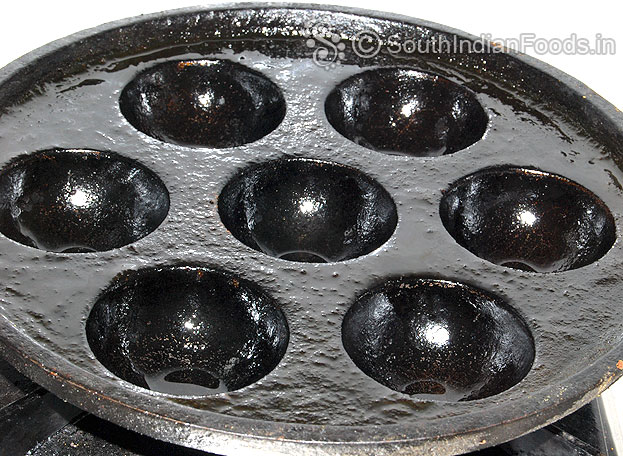 Rate this recipe
You may also like these recipes

Coconut chutney
Coconut - ½ cup [chopped]. Roasted gram...
Read More >>

Hotel Idli Sambar
Though everyone hates hotel food some times we...
Read More >>

Veg Corn Rava Upma
Corn rava [maize rava, Makka cholam]- 2 cups...
Read More >>

Ragi semiya kheer
Ragi semiya [vermicelli] – ¼ cup. Jaggery – 3...
Read More >>

Ven pongal
Rice [Boiled rice, Raw rice] – 1 cup. Moong dal...
Read More >>

Coriander biryani
Coriander puree – ½ cup. [Put ¼ cup of Mint...
Read More >>

Mini thayir vadai
Urad dal – 1 cup. Curd – 2 cups. Sambar...
Read More >>

Murungakkai sambar
Murungakkai [drumstick] - 2. Toor dal – 1 cup...
Read More >>

Sweet potato cheese balls
Sweet Potato[Sakkaravalli...
Read More >>

Thayir semiya
Semiya[Vermicelli, sevai]– 1 cup. Curd – 1...
Read More >>

Vendakkai sambar
Vendakkai [ladies finger in english, okra or...
Read More >>

Kambu paniyaram
Kambu (pearl millet) - 2 cup. Urad dal - ½ cup...
Read More >>
Recipes by Categories