Phirni recipe-Punjabi special quick dessert

By
Sridher
Cuisine Style: Punjab, India | Cooking Time: 10 to 15 minutes | To Serve: 5 | Type: Sweet
Ingredients
Basmati rice – 2 to 3 tbsp
Milk – 3 cups
Sugar – 5 tbsp
Badam powder – 1 tbsp
Almonds – 3 [sliced]
Pistachios – 5 [sliced]
Cardamom powder – ½ tbsp
Preparation
Soak basmati for ½ an hours. Then drain water.
In a mixer jar add soaked basmati rice then pour 3 tbsp of milk grind well.
Heat milk in a pan & let it boil, add saffron, and then add ground rice mixture stir well.
Add sugar, cardamom powder stir continuously till the mixture thickens. Then cut off heat.
Sprinkle sliced almonds, pistachios, badam powder & serve hot or chilled.
Note
You can add Jaggery instead of sugar

Punjabi special phirni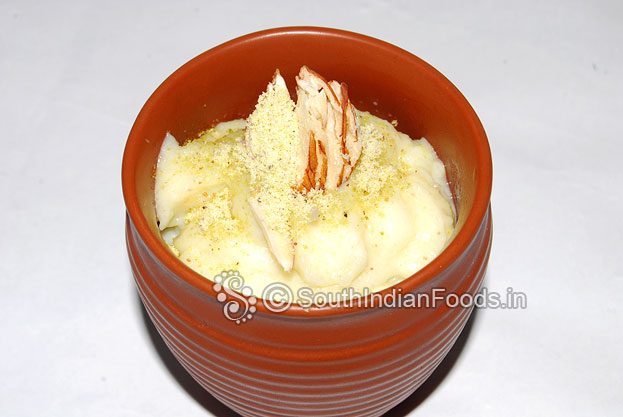 Rate this recipe
You may also like these recipes

Cornmeal upma
Cornmeal [Broken maize, Corn rava ] – 1 cup...
Read More >>

Curd ragi semiya
Ragi semiya[kezhvaragu sevai or Finger millet...
Read More >>

Arisi puttu
Rice flour – 1 cup. Coconut – 1 ½ cup. Ghee...
Read More >>

Corn rava idli
Corn rava – 1 cup. Curd – 1 cup. Water as...
Read More >>

Seppankizhangu[Arbi] varuval
Seppankizhangu [Taro...
Read More >>

Ragi Paniyaram
Ragi - 2 cups. Urad dal - ½ cup. Fenugreek...
Read More >>
Recipes by Categories