Palak Namak para |Spinach namkeen with wheat flour-How to make-Step by step photos & video

By
Gunaselvi Sridher
Cuisine Style: India | Preparation & Cooking Time: 20 min | To Serve: 4 | Type: Snacks
Ingredients
Wheat flour – 1 cup
Rava[Semolina]– 2 tbsp
Ghee – 3 tbsp
Red chilli powder – 1 tsp
Turmeric powder -1 tsp
Sesame seeds – 1 tbsp
Carom seeds – 1 tbsp
Asafoetida[hing - 1 tsp
Spinach [Palak]-1 handful
Green chilli -1
Water as needed
Salt to taste
Oil for deep frying
Preparation Method
Wash and chop spinach
In a mixie jar add spinach, green chilli finely grind then strain to extract palak juice.
In a bowl add all wheat flour, rava, salt, ghee,carom seeds, sesame seeds, asafoetida, turmeric powder & red chilli powder mix well.
Add water & spinach juice knead it make soft dough.
Then cover it & leave it for 10 min.
Sprinkle flour & roll out into thick chapatti.
Cut into square or diamond shapes
Heat oil in a pan then put raw namak pare, deep fry till golden brown & crisp on low to medium hot oil
When it is ready remove it from oil & drain on an absorbent paper & let it cool.
Store it in an airtight container and use within 5 days.
How to make Palak namak para video
How to make Palak Namak para-Stepwise pictures
Add spinach and green chilli in mixie jar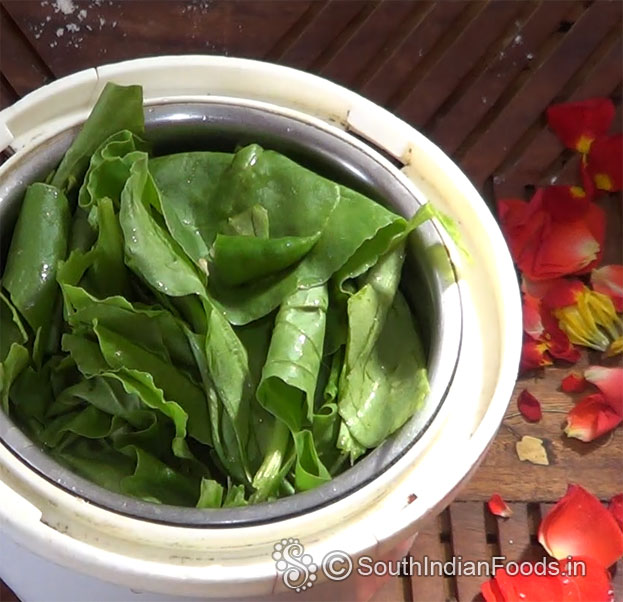 Add water, grind to fine puree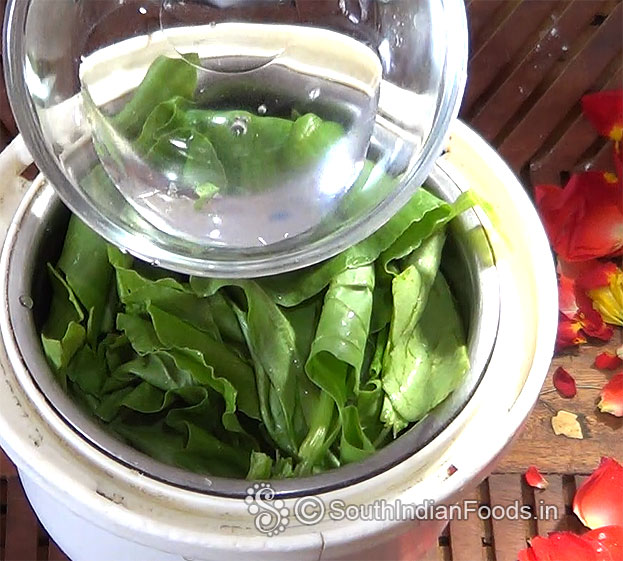 Spinach puree is ready, keep it aside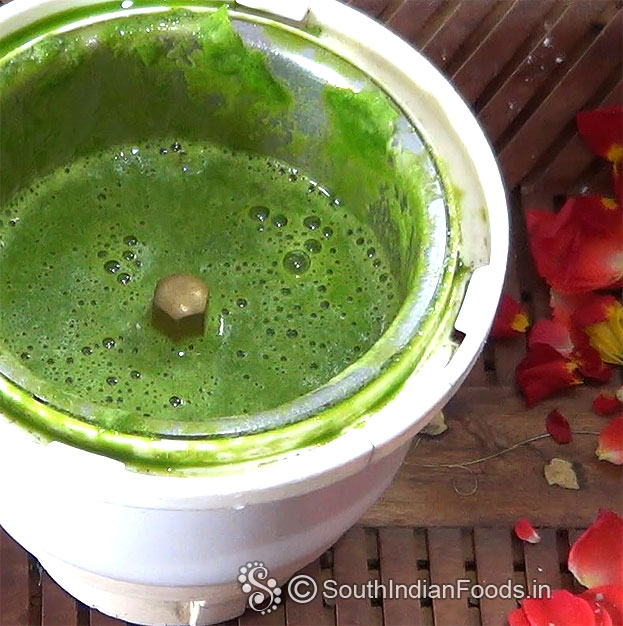 In a bowl add wheat flour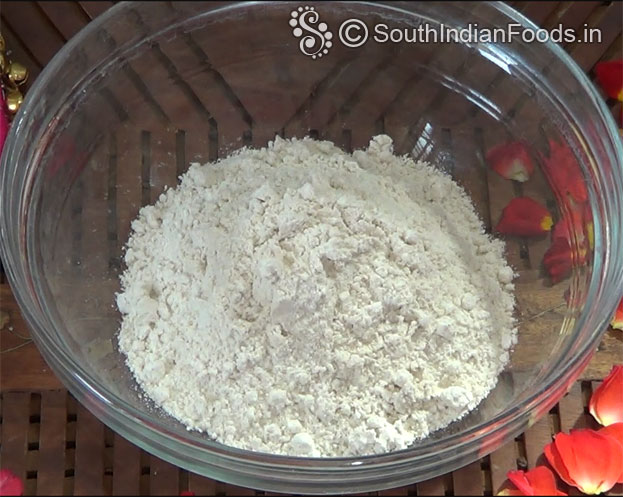 Add rava/semolina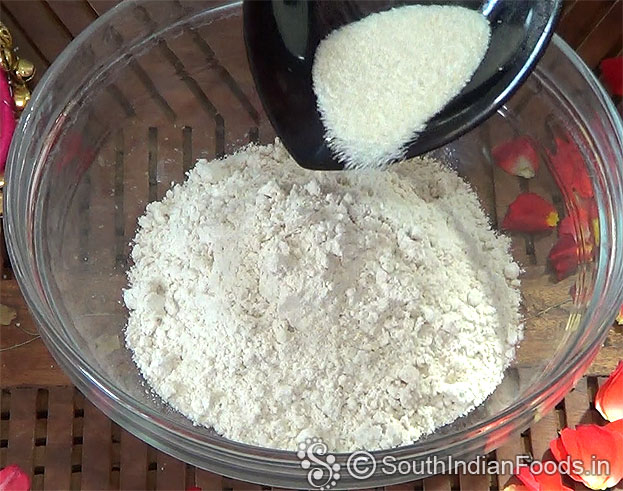 Add carom seeds[Ajwain], sesame seeds[Til]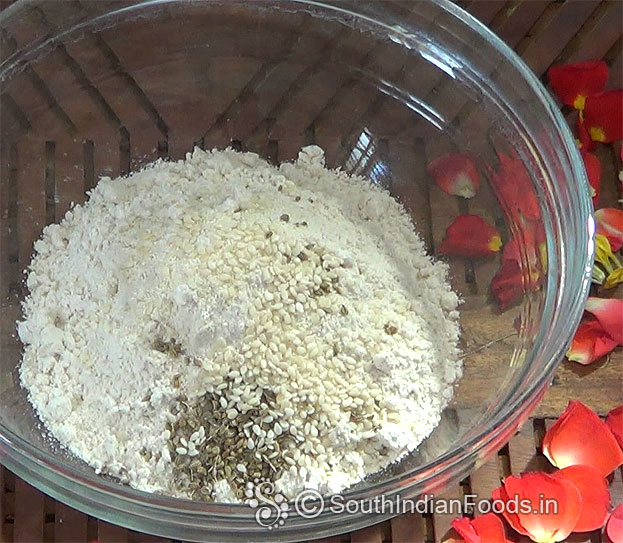 Add 1 tbsp oil

Add ghee, mix well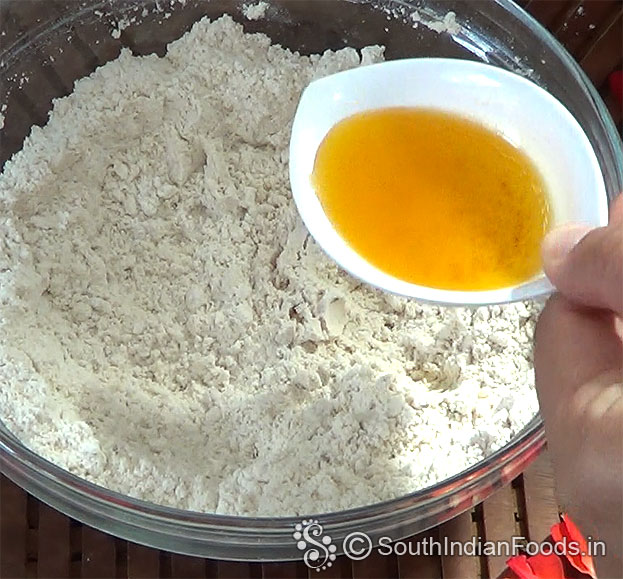 Add Hing mix well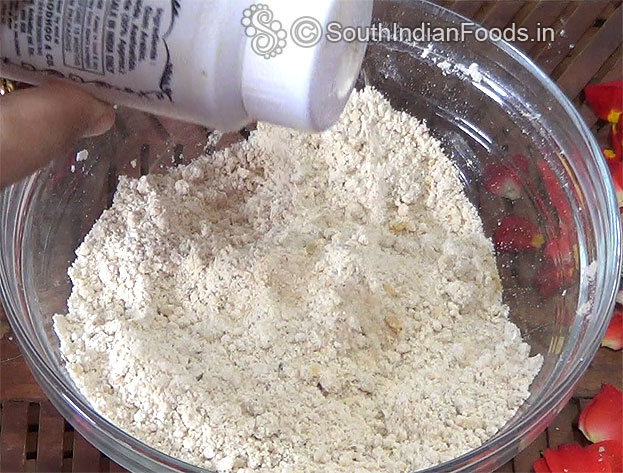 Add red chilli pwoder & turmeric powder mix well
Strain spinach juice
Mix well
Add remaining spinach juice, mix well, knead it , make it soft dough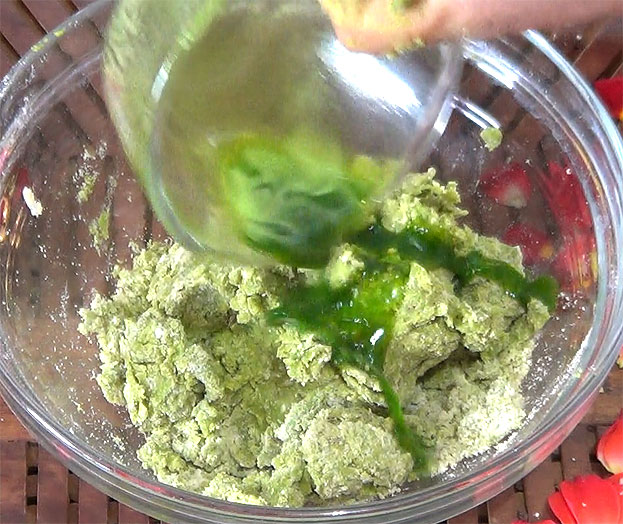 Palak dough ready, keep it aside for 10 min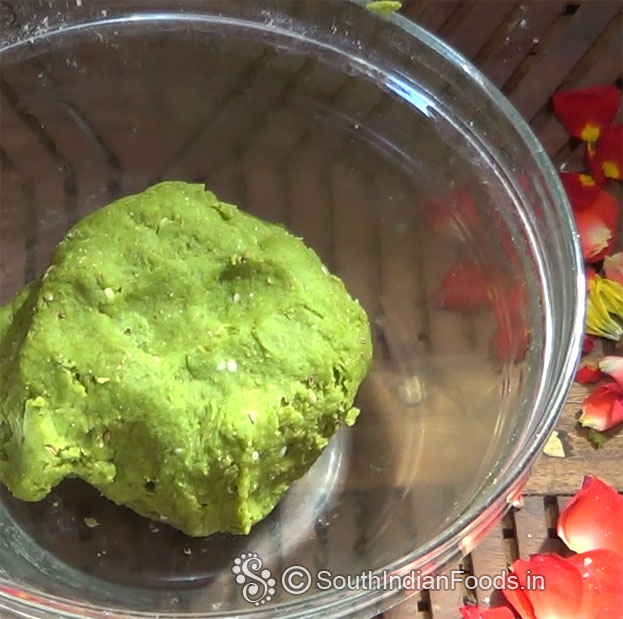 Take 1 handful dough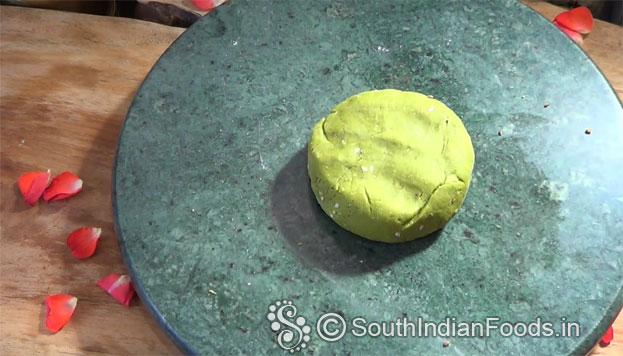 Sprinkle flour, roll out into thick chapathi
Now itsr eady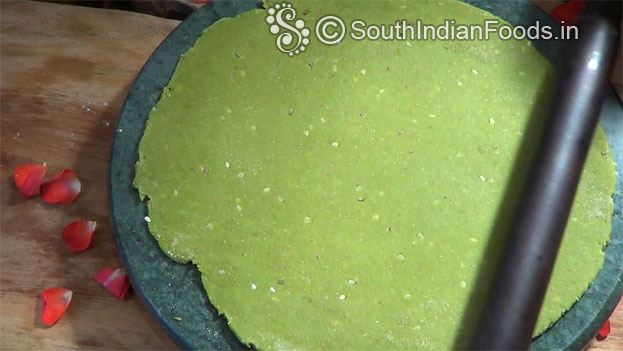 Cut into stripes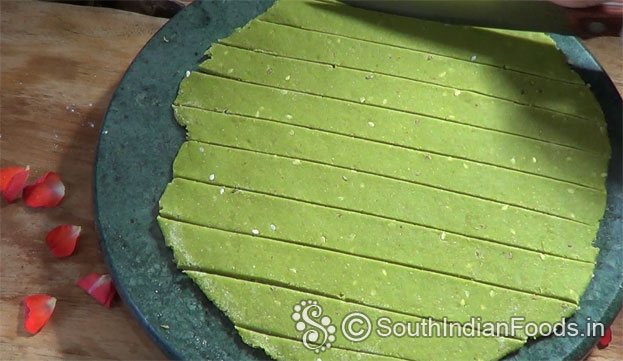 Then cut into diamond shape
Palak/spinach diamond cuts ready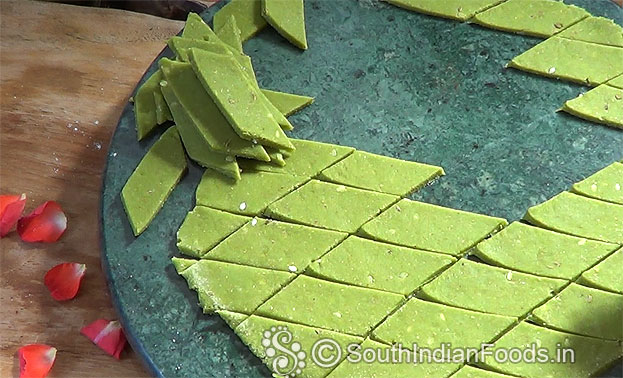 Heat oil, drop raw palak diamond cuts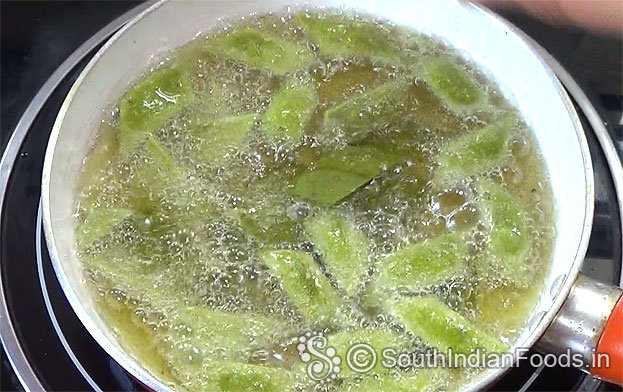 Deep fry till crisp and golden brown on medium flame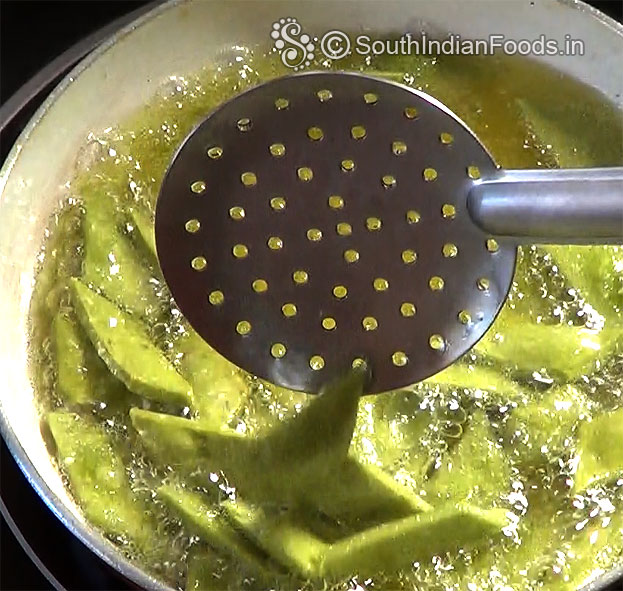 Now its ready, remove it from oil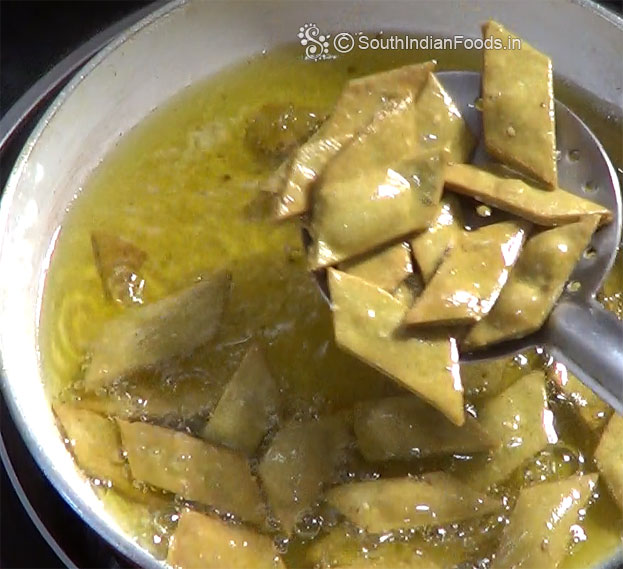 Crispy spinach fritters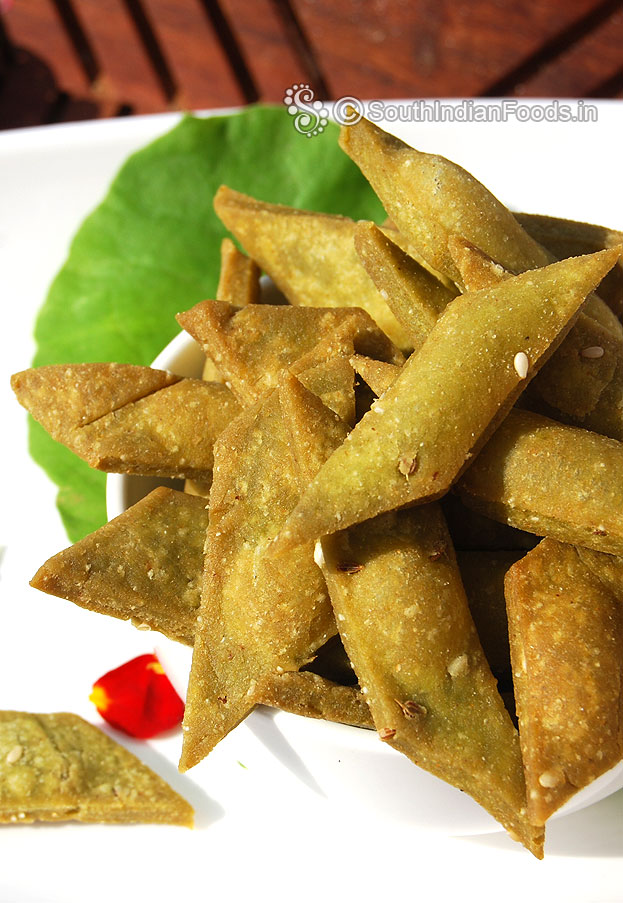 Palak namak pare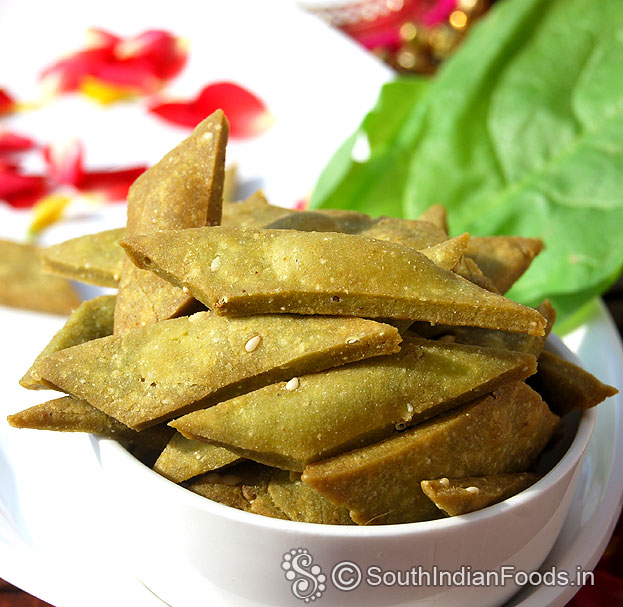 Palak nimki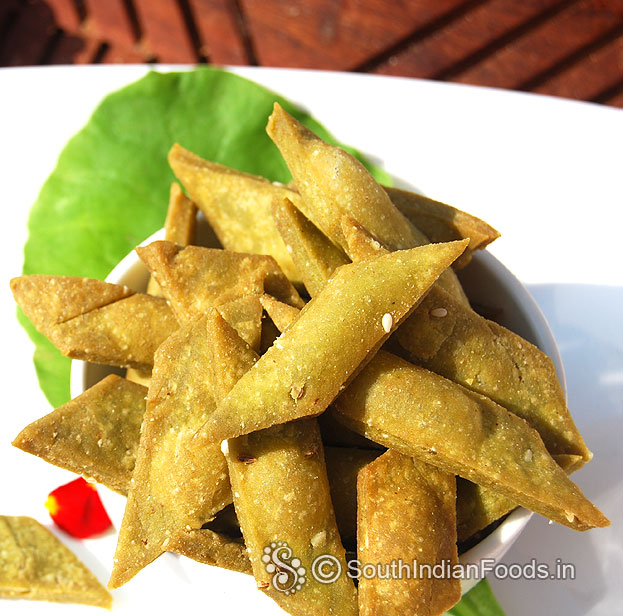 palak namkeen
palak nimkin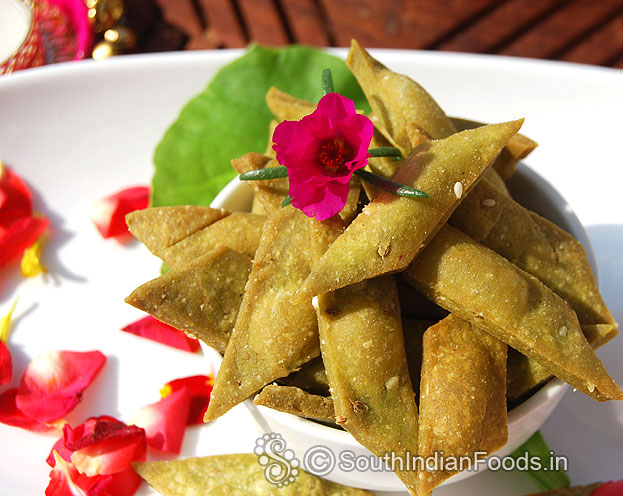 Pasalai keerai diamond cuts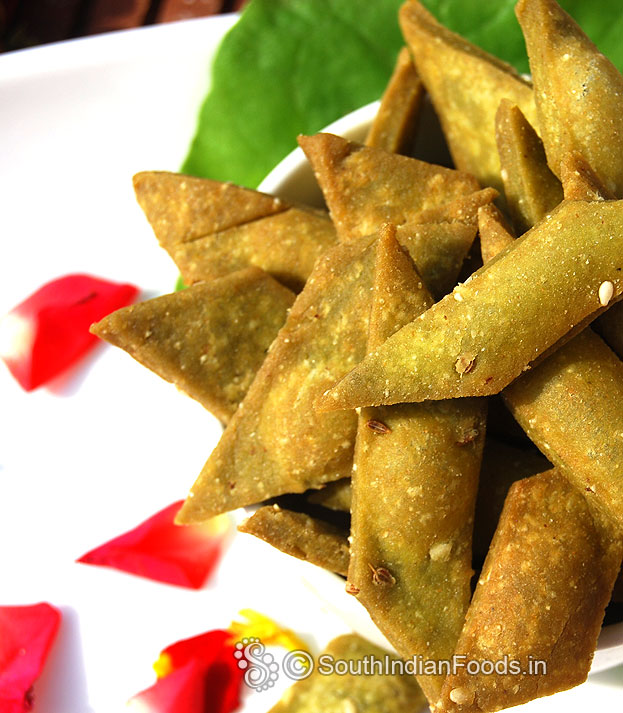 Spinach diamond cuts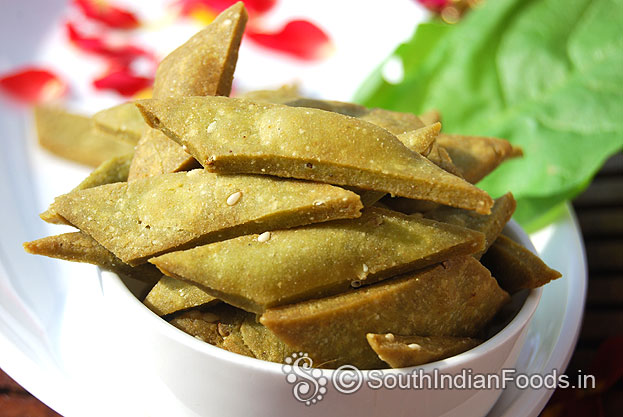 Spicy green diamond biscuits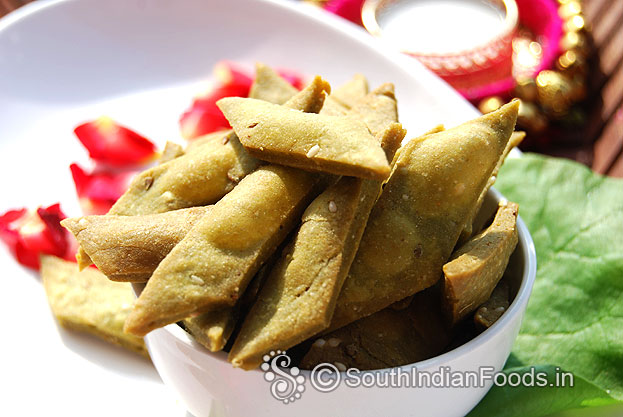 Rate this recipe
You may also like these recipes

Onion samosa
Onion – 3 [sliced]. Carrot – 1 [finely chopped]. Garlic...
Read More >>

Kaja Sweet or Madatha Kaja
All purpose flour / Maida...
Read More >>

Thinai laddu
Thinai [Foxtail millet ] – 1 cup. Honey – ½ cup. Ghee...
Read More >>

Moong dal payasam with jaggery
Moong dal - 1 cup. Milk - 3...
Read More >>
Recipes by Categories