Amla biryani | Nellikai biryani | Gooseberry pulao biryani

By
Sridher
Cuisine Style: India | Cooking Time: 15 to 20 minutes | Take with: Kurma, raita,pachadi | To Serve: 2 | Type: Lunch
Ingredients
Basmati rice – 1 cup
Amla [Gooseberry, Nellikai] – 1 [sliced]
Ground nut – 2 tbsp [Fresh]
Soya chunks – 2 tbsp
Green peas – 2 tbsp [Fresh]
Carrot – 1 [chopped]
Onion -1 [sliced]
Ginger & Garlic – 1 tbsp [grated]
Green chilli – 2 to 3
Curd – 2 tbsp
Tomato – 1 [chopped]
Turmeric powder – ¼ tsp
Red chilli powder – ¼ tsp
Garam masala powder – 1 tsp
Star anise – ½ flower
Cinnamon stick – ½
Bay leaves - 1
Fennel seeds – ½ tbsp
Green Cardamom – 2
Coriander, mint leaves – ½ cup [ 3 springs]
Lemon juice – ½ tbsp
Oil – 2 tbsp
Butter – 1 tbsp
Salt to taste
Water – 2 cups
Preparation Method
Wash & soak basmati rice for ½ an hour.
Add coriander, mint leaves in a mixer jar then finely grind.
Boil water then cut off heat. Put soya chunks & then leave it for 5 min. Then Squeeze water & keep it aside.
Heat pressure cooker with oil & butter. Add green cardamom, fennel seeds, cinnamon stick, cloves, bay leaves, star anise, sauté. Then add onion sauté till light brown then add ginger & garlic.
Add green chilli, tomato sauté well.
Add Amla [Gooseberry], Ground nut, Green peas, Carrot Sauté well.
Add Soya chunks, mint leaves, garam masala, turmeric & red chilli powder mix well. Then add salt, 2 tbsp curd & water mix well & let it boil.
Add ground mint coriander mixture sauté well.
When boiling add basmati rice mix gently & cover it & cook for 3 to 4 whistles.
Sprinkle mint leaves, lemon juice mix gently then serve hot with any raita.
Nellikai pulao recipe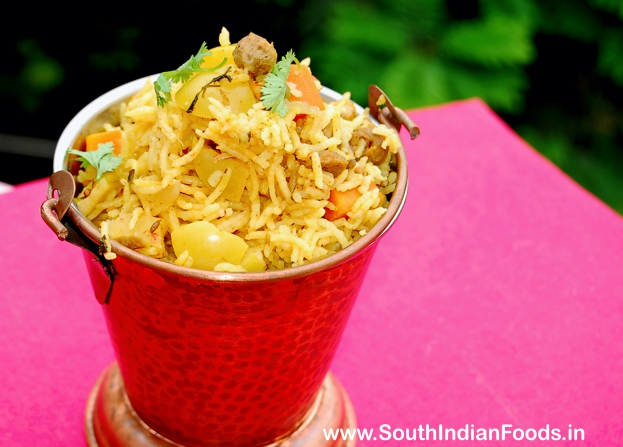 Cucumber raita
Cucumber - 1
Ginger – 1 tbsp [finely chopped]
Green chilli – 1 [chopped]
Coriander leaves – 3 springs [chopped]
Curry leaves – 1 spring [chopped]
Lemon juice – ½ tbsp
Salt to taste
Curd – ¾ cup

Peel off the cucumber skin then remove seeds & grate.
In a bowl add grated cucumber, salt & leave it for 2 min. Then gently squeeze out the extra water.
Add ginger, green chilli, curry leaves, coriander leaves, salt & lemon juice mix well. Then add curd mix well & serve

Rate this recipe
You may also like these recipes

Inji Vendhaya Rasam
Tomato – 1. Tamarind juice – 2 tbsp. Ginger - 1 tbsp...
Read More >>

Gooseberry pickle
Gooseberry [Amla, Nellikai, Ribes uva-crispa...
Read More >>

Sweet potato methi roast
Sakkaravalli kizhangu....
Read More >>

Mango rava kesari
Mango - 1 [sweet]. Semolina [suji, Sooji...
Read More >>

Simple carrot raita
Carrot - 1 cup [grated]. Curd / yogurt– ¾ cup [fully...
Read More >>
Recipes by Categories