Masala Idli upma -How to make-Video

By
Sridher
Cuisine Style: TamilNadu, South India | Preparation & Cooking Time: 5 to 8 minutes | To Serve: 3 | Take with: Kurma, chutney, sambar, pickles, chips | Type: Breakfast, dinner
Idli – 2 [Use fresh or leftover idlis]
Onion – 1
Tomato - 1 [chopped]
Green chilli – 1 [chopped]
Ginger – ½ tsp [finely chopped]
Curry leaves – 1 spring
Coriander leaves – 1 spring
Red chilli powder - 1/4 tsp
Turmeric powder -½ tsp
Carrot - 2 tbsp [chopped]
Capsicum - 2 tbsp [chopped]
Pav bhaji masala - 1 tbsp
Mustard seeds – 1 tbsp
Bengal gram – 1 tbsp
Urad dal – 1 tbsp
Salt to taste
Oil – 1 tbsp
Water – 2 tbsp
Preparation Method
In a bowl add idlis & sprinkle 2 tbsp of water then crumble.
Heat oil in a pan, add mustard seeds & let it splutter then add Bengal gram & urad dal sauté.
Add onion, sauté till soft.
Then add ginger, green chilli, curry leaves, turmeric & red chilli powder sauté.
Add Carrot & capsicum saute
Add toamto saute till soft.
Add pav bhaji masala mix well
Add crumbled idli mixture & salt mix well.
How to make Masala Idli Upma video
Masala Idli Uppittu / Uppuma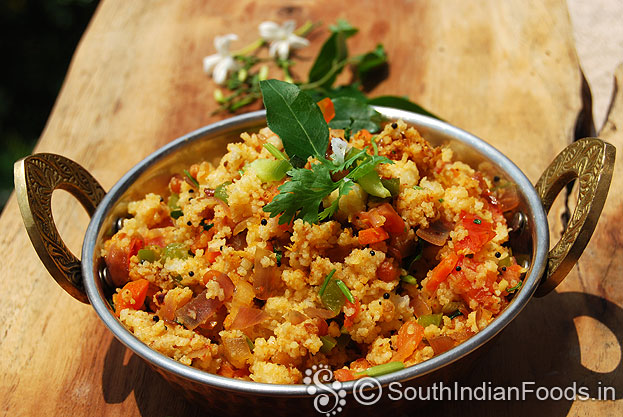 Rate this recipe
You may also like these recipes


Veg burger with samak rice balls
Bread Bun[Salted,...
Read More >>

Cauliflower Kurma
Cauliflower – 1 cup. Sambar onion...
Read More >>

Hotel Idli Sambar
Though everyone hates hotel food some times we...
Read More >>

Kara Kuzhambu
Brinjal - 3 nos. Small Onion (Sambar Onion) - 10...
Read More >>

Veg burger with beetroot balls
Bread bun [Salted,...
Read More >>

Ven pongal
Rice [Boiled rice, Raw rice] – 1 cup. Moong dal...
Read More >>

Simple thakkali kuzhambu
Tomato – 4 [chopped]...
Read More >>
Recipes by Categories