Ladies finger thoran | Vendakka thoran-Kerala special stir fry recipe

By
Sridher
Cuisine Style: Kerala, south india | Preparation&Cooking Time: 10 minutes | To Serve: 4 | Take With: Rice/Roti | Type: Thoran, poriyal, stir fry
Ingredients
Ladies finger[Okra, Bhindi, Vendakka] – 2 cup [finely chopped]
Coconut – ½ cup [grated]
Dry red chilli -1
Green chilli - 2
Onion – 1 [chopped]
Curry leaves – 1 spring
Turmeric powder – ¼ tsp
Urad dal – 1 tbsp
Mustard seeds – 1 tbsp
Asafetida a pinch
Salt to taste
Coconut oil – 1 ½ tbsp
Water as needed
Preparation
Heat iron pan add coconut oil, mustard seeds & let it splutter. Then add urad dal sauté gently.
Add green chilli, dry red chilli, curry leaves & asafetida sauté.
Add onion sauté till soft. Then add ladies finger sauté for 1 min.
Then add salt, turmeric powder mix well & sauté for 1 min. Sprinkle water [3 tbsp], cover it & cook till soft.[Check in the middle & sprinkle water & saute, don't add too much water]
Finally add grated coconut mix well & cut off heat, serve hot with rice.
Tip
Use coconut oil for better flavor.
Vendakka thoran-Kerala special stir fry recipe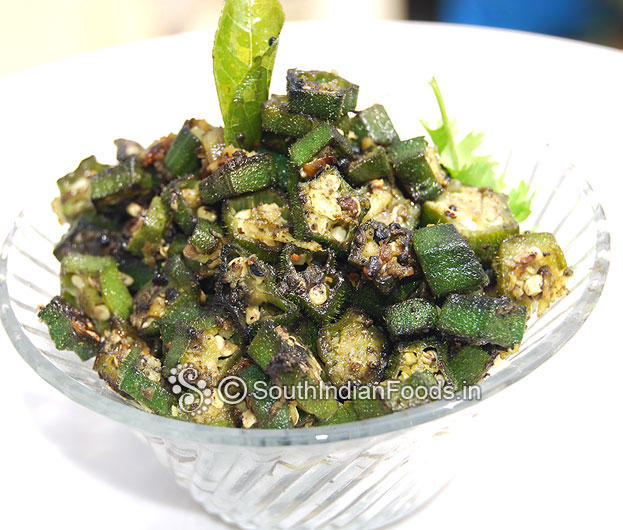 Rate this recipe
You may also like these recipes

Cornmeal sago vada
Bengal gram – ¼ cup or 3 tbsp, Moong dal – 2 tbsp...
Read More >>

Ellu sadam
Rice – 1 cup [boiled]. Sesame seeds [til, ellu...
Read More >>

Kathirikai bonda puli kootu
Kathirikai [Brinjal or...
Read More >>

Fried Rice
Put soaked (1 hr) basmati rice in boiling water...
Read More >>

Crispy okra
Slice okra [ladies finger] alongside...
Read More >>

Green gram peanut sambar
Green gram [Pachai payaru...
Read More >>

Thinai tomato veg kichadi
Thinai Arisi [Foxtail Millet]...
Read More >>
Rava pongal
White rava [semolina rava] – 1 cup. Moong dal- ¼ cup...
Read More >>

Wheat rava pongal
Wheat rava [samba rava, small] – 1 cup. Moong dal- ¼ cup...
Read More >>
Recipes by Categories