Sweets / Desserts >Kambu laddu | Pearl millet ladoo with nuts | Barja ladoo | Kambu maavu sathu urundai
Kambu laddu | Pearl millet ladoo with nuts | Barja ladoo | Kambu maavu sathu urundai

By
Sridher
Cuisine Style: Tamil nadu, South India | Preparation & CookingTime: 15 minutes | To Serve: 5 | Type: Sweet, Festival, Diwali, pongal special
Ingredients
Kambu maavu [Pearl millet flour, bajra flour] – 1 cup
Cashew nuts – 5
Almonds – 5
Raisins – 6
Brown Sugar or jaggery – ¼ cup
Sugar – 2 tbsp
Green cardamom – 3
Ghee – ¼ cup or milk
Preparation
Heat pan add kambu maavu gently roast on low flame till you get nice aroma.
Heat ghee in a pan add raisins, almonds, pistachios & cashew nuts then roast till light brown then chop & keep it aside
Break the cardamom shell; add the seeds & sugar in a mixer jar & finely grind.
In a bowl add roasted kambu maavu & sugar cardamom powder mix well.
Add chopped nuts, sesame seeds & raisins mix well. Then heat ghee.
Add ghee to the mixture mix well then make it equal size ladoos.
Pressure little bit & make the ladoos tight.
Once its ready garnish with almonds & pistachios then place it in an airtight container use within 3 days.
Kambu Urundai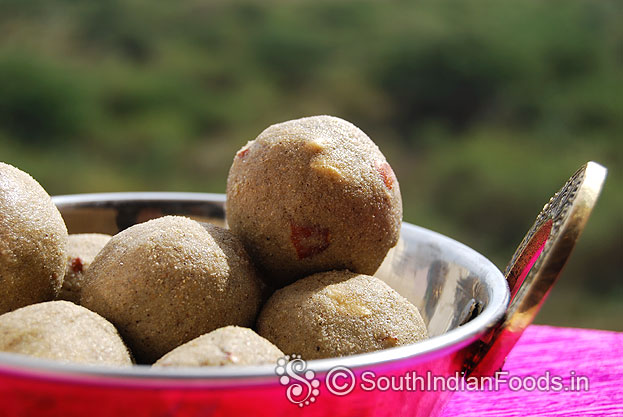 Rate this recipe
You may also like these recipes
Broccoli manchurian
Broccoli - 1 cup Onion – 1 [finely chopped]...
Read More >>

Oma podi-Plain sev
Gram flour[Besan, Kadalai Maavu] – 1 cup...
Read More >>

Beetroot payasam
Beetroot -1 cup [finely grated]. Ghee [melted butter] – 3...
Read More >>

Carrot payasam
Delhi carrots [red]-1 cup [finely grated]. Ghee...
Read More >>

Potato noodles croquettes
Potato [Aloo] – 3. Noodles...
Read More >>

Cauliflower butter masala
Cauliflower [gobi in hindi]...
Read More >>
Recipes by Categories