Kaima sorghum idli | Kaima chola [jowar] idli

By
Sridher
Cuisine Style: Tamil Nadu, South India | Preparation & Cooking Time: 15 minutes | To Serve: 4 | Type: Breakfast, dinner
Ingredients
Sorghum Idli [cholam idli, yellow Jowar idli] – 5 [left over or fresh]
Capsicum – ¼ cup [finely chopped]
Onion – 1 [finely chopped]
Tomato – 1 [finely chopped]
Tomato chilli sauce – 2 tbsp
Ginger & Garlic – 1 tbsp [each, finely chopped, grated or mashed]
Green chilli – 1 tbsp [finely chopped]
Coriander leaves – 2 springs [chopped]
Curry leaves – 1 spring
Turmeric powder – ¼ tsp
Kasmiri red chilli powder – 1 tsp
Coriander powder – ½ tsp
Garam masala powder – ½ tsp
Dry mango powder – ¼ tsp
Mustard seeds – ½ tbsp
Cumin seeds – ½ tbsp
Fennel seeds – ½ tbsp
Freshly ground pepper powder – a pinch
Salt to taste
Oil – 2 tbsp
Water – 2 tbsp
Preparation Method
Cut idli into small cubes.
Heat iron dosa tawa or pan pour 3 tbsp of oil then shallow fry idli cubes.
Heat oil in a pan then add mustard seeds & let it splutter then add cumin, fennel seeds fry.
Add curry leaves, onion sauté till light brown.
Add capsicum, ginger, garlic & green chilli sauté.
Add tomato sauté till soft.
Then add tomato chilli sauce, turmeric, red chilli powder mix well.
Add water & mix well. Then add Garam masala powder, coriander powder, pepper powder & dry mango powder mix well.
Then add shallow fried idli, & salt sauté well.
Finally add coriander leaves mix well & cut off heat then serve immediately.
Kaima solam [jowar] idli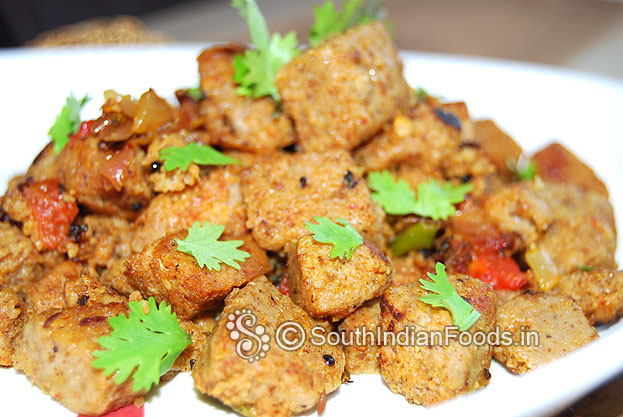 Rate this recipe
You may also like these recipes

Raw banana dry curry
Raw banana [Vazhakkai, Plantain, Kacha kela] - 1...
Read More >>

Thinai adai
Thinai arisi [Foxtail millet, Korra biyyam] – 2 cup...
Read More >>

Chitranna
Basmati rice – 2 cup [boiled]. Lemon juice...
Read More >>

Potato noodles croquettes
Potato [Aloo] – 3. Noodles...
Read More >>

Onion samosa
Onion – 3 [sliced]. Carrot – 1 [finely chopped]. Garlic...
Read More >>

Carrot payasam
Delhi carrots [red]-1 cup [finely grated]. Ghee...
Read More >>

Crispy okra
Slice okra [ladies finger] alongside and cut...
Read More >>

Pesarattu
Soak Moong Dal and raw rice over night. Coarse...
Read More >>
Recipes by Categories