Green Gram Mini Kozhukattai [Moong Dal Kozhukattai], Pachai payaru kolukattai

By
Sridher
Cuisine Style: Tamil Nadu | Cooking Time: 15 minutes | To Serve: 2 | Take with: Chutney | Type: Breakfast or Dinner, Weight loss & Easy diabetic recipes
Ingredients
Whole Green Gram [Moong dal] – 1cup
Grated coconut - 3 tbsp
Onion - 1 [chopped]
Green chilli - 1 [chopped]
Curry leaves - 1 spring
Coriander leaves - 1 tbsp
Ginger - 1 tbsp [grated]
Mustard seeds - 1 tbsp
Urad dal – ½ tbsp
Bengal gram – ½ tbsp
Salt to taste
Oil - 2 tbsp
Preparation
Wash and soak green gram for 8 hours. Drain excess water then dry out green gram in a cotton cloth. Coarse grind green gram with salt, coriander leaves, green chilli in a blender.
Make ball shape from the mixture. Then steam it in idli cooker for 5 min.
Heat oil in a pan then add mustard seeds. Once it splutters add Bengal gram, urad dal and add chopped onion then sauté well.
Add ginger, green chilli and curry leaves & sauté for a min then add grated coconut sauté gently.
Add steamed green gram balls sauté gently then sprinkle salt if required.
Serve hot with coconut chutney.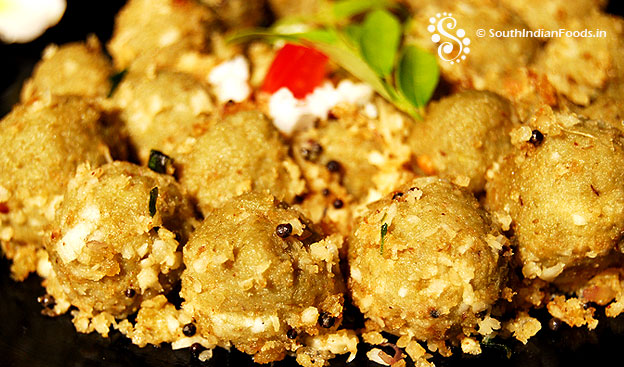 Note
Don't mix water while grinding green gram. Because soaked green gram itself has moisture.

Tip
We can make sweet green gram kolukattai by adding jaggery and coconut, green cardamom powder.

Rate this recipe
You may also like these recipes

Coconut chutney
Coconut - ½ cup [chopped]. Roasted gram...
Read More >>

Hotel Idli Sambar
Though everyone hates hotel food some times we...
Read More >>

Ragi semiya kheer
Ragi semiya [vermicelli] – ¼ cup. Jaggery – 3...
Read More >>

Sweet potato cheese balls
Sweet Potato[Sakkaravalli...
Read More >>

Simple idli kurma
Onion -1 [sliced]. Green chilli – 1 [slit]. Ginger – 1 tbsp...
Read More >>

Mini thayir vadai
Urad dal – 1 cup. Curd – 2 cups. Sambar...
Read More >>

Thinai payasam
Thinai arisi [Foxtail millet] – 1 cup. Milk – 2 ½...
Read More >>
Recipes by Categories