Green gram dosa | Crispy pesarattu dosa | Pachai payaru dosai

By
Sridher
Cuisine Style: Tamil Nadu,south india | Preparation Time: 15 minutes | Cooking Time: 5 minutes | To Serve: 3 | Type : Breakfast | Take with : Coconut or tomato Chutney, kurma, pickle
Ingredients
Green gram – 2 cups
Urad dal – ½ cup
Idli Rice – ¼ cup
Fenugreek seeds – 1 tbsp
Salt to taste
Oil – 2 tbsp
Water as needed.
Preparation
Dry roast moong dal.
Wash & soak moong dal, urad dal, idli rice & fenugreek seeds overnight.
Drain water then grind well. Add water when grinding. In a bowl add freshly ground batter, salt and leave it for fermentation [approximately. 8 hours].
Transfer the batter to a container then add sea salt / normal salt then mix well cover it and leave it for fermentation (approximately 8 hours)
Add rice flour and grated jaggery mix well (add water if the batter is too thick)
Heat Dosa pan and brush oil then spread the batter quickly to round shape and make sure it not too thick. Cover it for 1 minute. Once done flip over & cook for another side.
Once dosa becomes crispy serve hot with chutney and sambar
Crispy pasi payaru dosai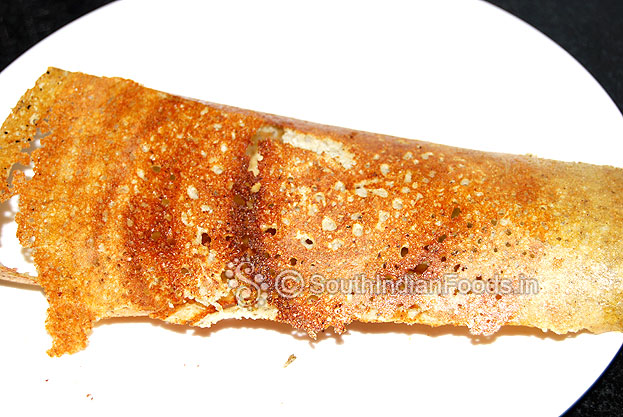 Rate this recipe
You may also like these recipes

Cauliflower Kurma
Cauliflower – 1 cup. Sambar onion...
Read More >>

Tomato chutney
Tomato – 3 [chopped]. Onion – 2 [sliced]. Coconut – 1 tbsp...
Read More >>

Kathirikai gothsu
Egg plant [brinjal, Kathirikai]– 1 big.Tamarind...
Read More >>

Hotel Idli Sambar
Toor Dal -1 Cup. Moong Dal - 1/2 cup. Carrot...
Read More >>

Coconut chutney
Coconut - ½ cup [chopped]. Roasted gram...
Read More >>

Manathakkali Chutney
manathakkali [Black night shade Leaves] - 1 bunch...
Read More >>

Sesame bhindi
Bhindi [Okra, vandakkai, ladies finger] – ¼ kg...
Read More >>

Lemon pickle
Lemon – 9. Gingelly oil – 50 ml. Mustard seeds – 1 tbsp...
Read More >>
Recipes by Categories