Green gram biryani | Pachai payaru biryani | Pasi payaru biryani [Easy lunch box recipe]

By
Sridher
Cuisine Style: Tamil Nadu, South India | Cooking Time: 15 to 20 minutes | To Serve: 3 | Take with: Kurma, raita,pachadi | Type: Lunch
Ingredients
Green gram [pachai payaru, matki dal] – ½ cup
Basmati rice – 1 cup
Tomato– 1 [chopped]
Onion – 1 [sliced]
Carrot – 1 [peeled & cut into cubes]
Potato – 1 [peeled & cut into cubes]
French beans – ¼ cup [chopped]
Ginger & garlic – 1 tbsp [finely chopped, mashed]
Green chilli – 1 [slit]
Mint leaves – 5 springs
Red chilli powder – ½ tsp
Garam masala powder – ½ tbsp
Cinnamon stick - 1
Green Cardamom - 2
Cloves - 3
Fennel seeds – 1 tbsp
Bay leaves - 1
Cashew nuts – 5 [ghee roasted]
Curd – 1 tbsp
Water- 2 cups
Lemon juice – ½ tbsp
Salt to taste
Oil - 2 tbsp
Butter or ghee – 1 tbsp
Preparation Method
Wash & soak basmati rice for ½ an hour. Dry roast green gram, Wash & soak for 3 hours.
Heat pressure cooker with oil & butter. Add green cardamom, fennel seeds, cinnamon stick, cloves, & bay leaves, sauté. Then add onion sauté till light brown then add ginger & garlic.
Add green chilli, potato, carrot, green gram, mint leaves & french beans, sauté well. Add tomato sauté.
Then add red chilli powder & garam masala powder sauté.
Then add water, salt & 2 tbsp curd mix well, & let it boil.
When boiling add basmati rice, mint leaves, cover it & cook for 3 to 4 whistles.
Sprinkle mint leaves, lemon juice gently mix then serve hot with any raita.

Pasi payaru biryani with Vegetables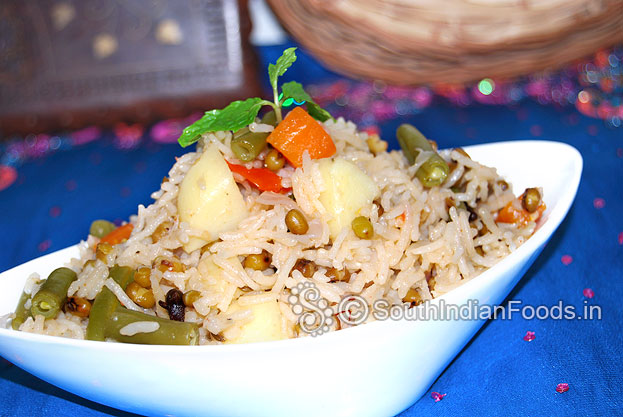 Rate this recipe
You may also like these recipes

Gobi Manchurian
I love Gobi Manchurian, I would like to have it as evening...
Read More >>

Potato Paneer Balls
This is homemade healthy snack which surely...
Read More >>

Medhu vadai
Urad dal – 1 cup. Green chilli - 1 [finely chopped]. Ginger...
Read More >>

Carrot Scallion curry
Carrot – 1 cup [cut into cubes]. Spring onion[Scallion]...
Read More >>

Cauliflower butter masala
Cauliflower [gobi in hindi]...
Read More >>

Instant neer dosa
Rice flour – 2 cups. Coconut milk – 1 cup. Water as...
Read More >>

Jeera aloo
Potato [Aloo]– 3. Cumin seeds – 1 tbsp. Red chilli powder...
Read More >>

Chinese toffee banana
Banana – 2. Plain flour...
Read More >>

Kadarangai Pickle
Kadarangai – 1. Gingelly oil – 50 ml. Mustard seeds...
Read More >>
Recipes by Categories