Ancient recipes >Drumstick leaf powder | Murungai keerai paruppu podi-How to make-Video
Drumstick leaf powder | Murungai keerai paruppu podi-How to make-Stepwise pictures & Video


By
Sridher
Cuisine Style : Tamil Nadu, South India | Cooking Time: 5 to 10 min | To Serve:3 | Type: Podi, Healthy powder varieties | Take with: Rice, idli, dosa & uthappam
Ingredients
Drumstick leaves[Moringa leaf, Murungai keerai] - 1 cup
Toor dal - 1/2 cup
Dry red chilli - 5
Sea salt to taste
Asafoetida [Hing] - 1 tsp
Oil - 1 1/2 tbsp [optional]
Preparation
Dry out drumstick leaves in shadow place for 1 to 2 days[Don't dry out in direct sun light]
Heat pan add toor dal, pour 1 tbsp oil roast till golden brown.
Add drumstick leaves roast for 2 min
Add asafoetida sauté. Then cut off heat keep it aside & let it cool.
In the same pan add dry red chilli, pour 1 tsp oil roast then let it cool.
In a mixer jar put all roasted ingredients, sea salt grind to fine powder
Then let it cool & store in an airtight container use within one month.
Serve with idli, dosa & rice
Serving: - Serve with sesame oil, ghee or coconut oil.
How to make Drumstick leaf powder video
How to make Drumstick leaf powder- Stepwise pictures[Instant& Quick]
Drumstick leaves powder ingredients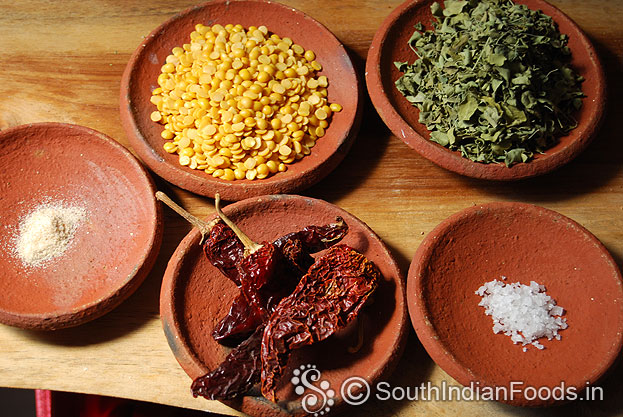 Heat pan, add toor dal, and 1 tbsp oil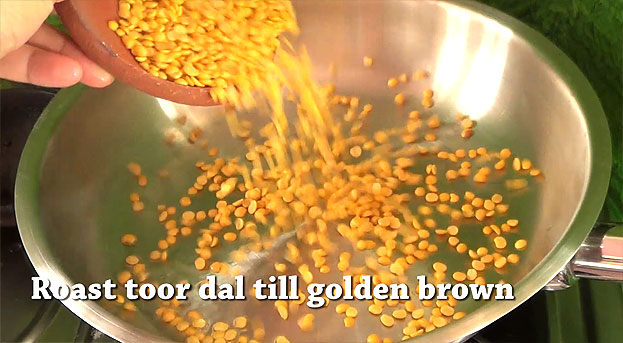 Roast till light brown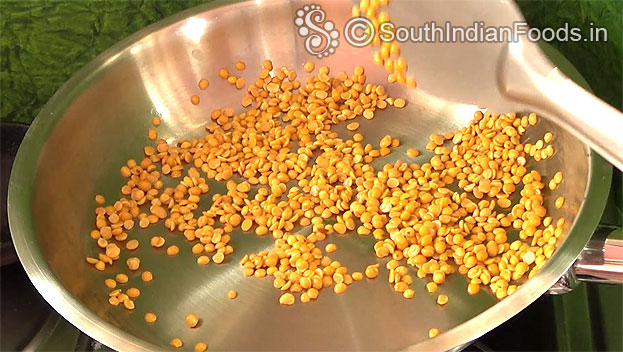 Add dried drumstick leaves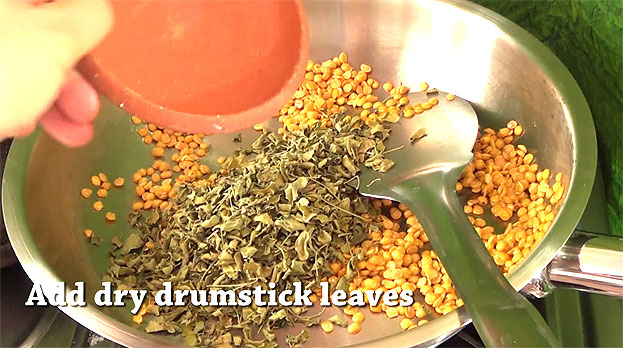 Roast for 2 min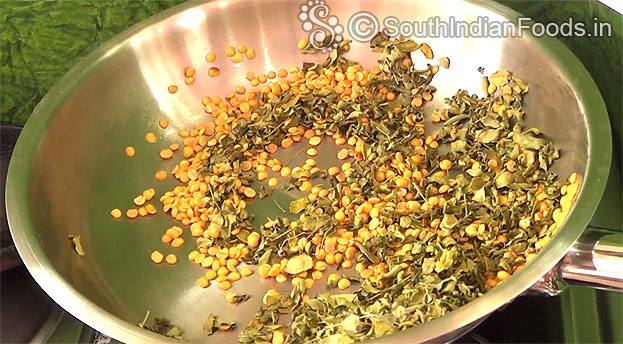 Add asafoetida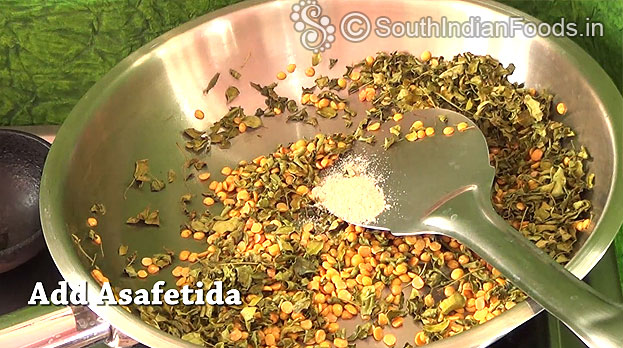 Add dry red chilli, roast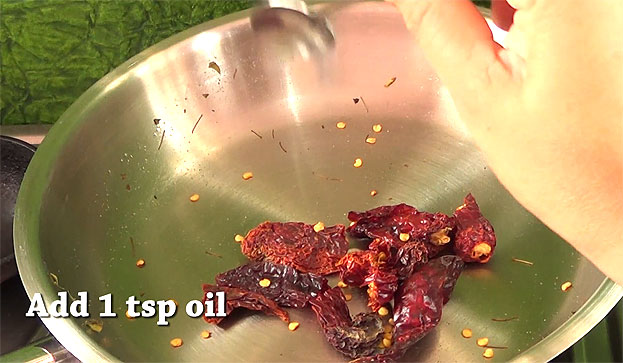 Let it cool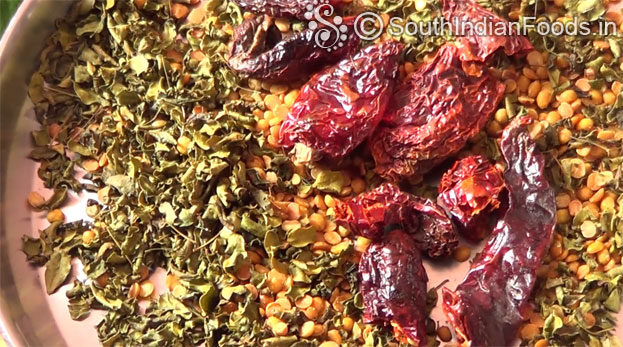 Put all roasted ingredients & sea salt finely grind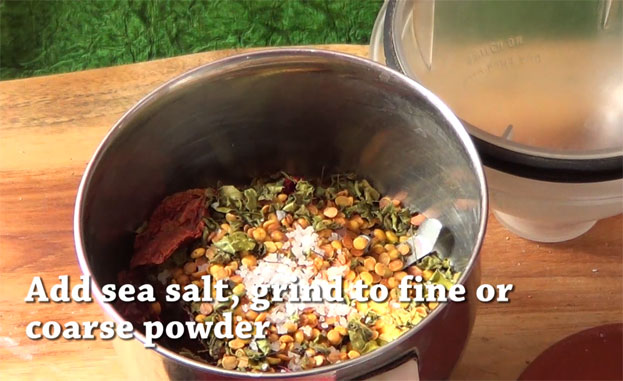 Freshly ground moringa powder ready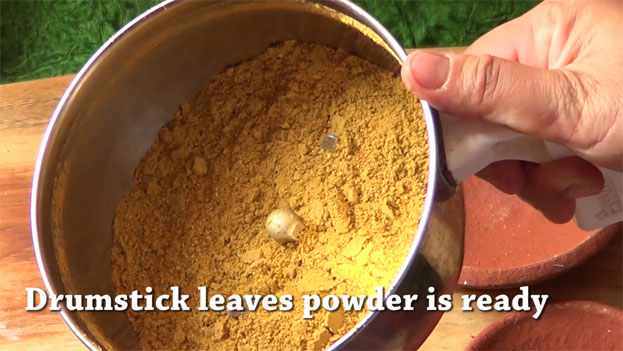 Moringa leaves powder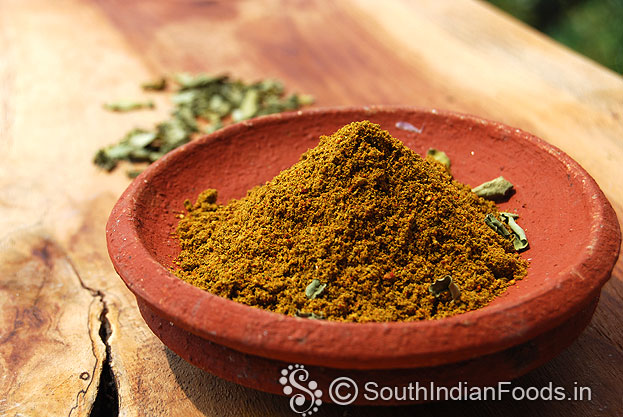 Rate this recipe
You may also like these recipes

Boondi ladoo
Gram flour [Kadalai maavu, besan] – 2 cups. Sugar...
Read More >>

Simple palak paneer
Spinach (palak) - 1 bunch. Cottage cheese..
Read More >>

Thayir semiya
Semiya[Vermicelli, sevai]– 1 cup. Curd – 1...
Read More >>

Lemon poha
Aval [poha or Flattened rice] – 1 cup. Peanuts – ¼ cup...
Read More >>

Kara Kuzhambu
Brinjal - 3 nos. Small Onion (Sambar Onion) - 10...
Read More >>

Coriander thogayal
Coriander – 2 cup. Coconut – ¼ cup. Toor dal – 1 tbsp...
Read More >>

Beetroot uthappam
Dosa batter – 1 cup. Beetroot juice – ¼ cup...
Read More >>

Raw banana kofta
Raw banana – 1 [boiled, mashed]. Potato ...
Read More >>

Moong dal payasam with jaggery
Moong dal - 1 cup. Milk - 3...
Read More >>

Karamani vadai
Karamani [Cowpea, Lobia, Black eyed pea]...
Read More >>

Chana masala
White chickpeas – 1 cup [Boiled]. Tomato...
Read More >>
Recipes by Categories