Cornmeal biryani | Corn rava biryani

By
Sridher
Cuisine Style: South India | Cooking Time: 15 minutes | To Serve: 3 | Type: Breakfast, dinner | Take with: Raita
Ingredients
Cornmeal [Corn rava, makka solam rava]– 1 cup
Water – 2 ¼ cup
Onion – 1 [sliced]
Tomato – 1 [chopped]
Green chilli – 1 [slit]
Ginger – 1 tbsp [chopped, or grated]
Garlic – 1 tbsp [mashed or grated]
Potato – ¼ cup [cut into cubes]
Carrot – ¼cup [cut into cubes]
Green peas – ¼ cup
Green cardamom - 3
Star anise – ½ flower
Cloves - 3
Cinnamon stick – ½
Bay leaves - 1
Stone flower - 1
Fennel seeds – 1 tbsp
Curd – 2 tbsp
Mint leaves [peppermint] – 15
Lemon juice – 1 tbsp
Red chilli powder – ½ tsp
Garam masala powder – 1 tsp
Butter – 2 inch cube
Oil – 1 tbsp
Salt to taste
Method
Dry roast cornmeal.
Heat pressure cooker with oil & butter. Add green cardamom, fennel seeds, cinnamon stick, cloves, bay leaves, star anise, stone flower sauté. Then add onion sauté till light brown then add ginger & garlic.
Add green chilli, potato, carrot, & green peas sauté well. Then add tomato sauté till soft.
Add mint leaves, garam masala & red chilli powder mix well. Then add salt, 2 tbsp curd & water mix well & let it boil.
When boiling add dry roasted cornmeal mix gently & cover it & cook for 3 whistles.
Sprinkle mint leaves, lemon juice mix gently then serve hot with any raita.
Corn rava biryani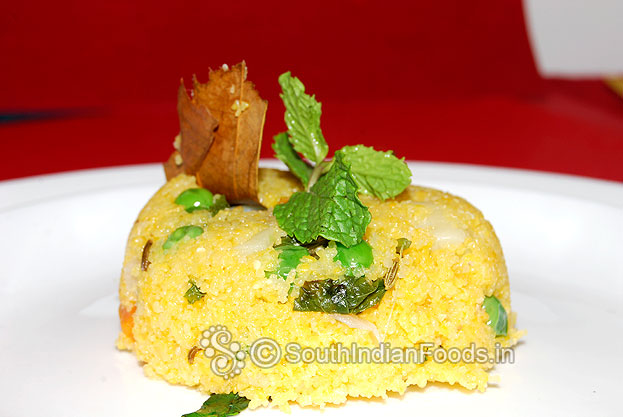 Rate this recipe
You may also like these recipes

Cauliflower spring onion sabzi
Cauliflower – 1 cup. Spring...
Read More >>

Cauliflower Kurma
Cauliflower – 1 cup. Sambar onion...
Read More >>

Paneer tikka
Paneer [Cottage Cheese] – 1 cup [cut into squares]...
Read More >>

Sesame bhindi
Bhindi [Okra, vandakkai, ladies finger] – ¼ kg...
Read More >>

Lemon pickle
Lemon – 9. Gingelly oil – 50 ml. Mustard seeds – 1 tbsp...
Read More >>

Chickpeas puli kootu
Kondakadalai [Chickpeas, Channa] – 1 cup...
Read More >>

Senai kizhangu chips
Senai kizhangu [Elephant foot yam] – half...
Read More >>

Delhi carrot halwa
Delhi carrots [red]-2 cups [finely grated]. Ghee...
Read More >>

Sesame paneer
Paneer [Cottage cheese] – 1 cup. Onion – 1...
Read More >>

Red cabbage cucumber salad
Purple cabbage – ¼ cup...
Read More >>

Sweet potato cheese balls
Sweet Potato[Sakkaravalli...
Read More >>
Recipes by Categories