Corn idiyappam | Maize string hoppers | Makka cholam sevai | Cornmeal Nooputt | Yellow Corn sandavai

By
Sridher
Cuisine Style: TamilNadu, South India | Preparation & Cooking Time: 15 minutes | To Serve: 3 | Take with: Kurma, chutney, sambar, pickles, chips | Type: Breakfast, dinner
Cornmeal [Corn rava, makka cholam]– 1 cup or you can use yellow corn/maize flour
Water as needed
Salt to taste
Gingelly oil – 1 tbsp
For tempering/ Seasoning
Mustard seeds – 1 tbsp
Curry leaves – 1 spring
Green chilli – 1 [chopped]
Oil – 1 tbsp
Salt to taste
Preparation Method
Dry roast cornmeal, let it cool & grind to fine powder / flour.
In a bowl add freshly ground cornmeal powder, salt,& water mix well & make smooth batter without lumps.[dosa batter consistency].
Heat idli cooker with water then grease idli plates with gingelly oil.
Pour cornmeal powder batter in idli plates, cover & steam it for 10 minutes.
Then de-mould idlis using spoon and transfer to a plate.
In an idiyappam kuzhal fill the idlis then just press or squeeze.
Once its ready cool it for 2 min.
Heat oil in a pan, add mustard seeds & let it splutter.
Then add curry leaves & green chilli sauté.
Add prepared corn idiyappam and salt mix well.
Using this base you can do any lemon, coconut, tomato, sweet & tamarind variations
Makka cholam / Maize idiyappam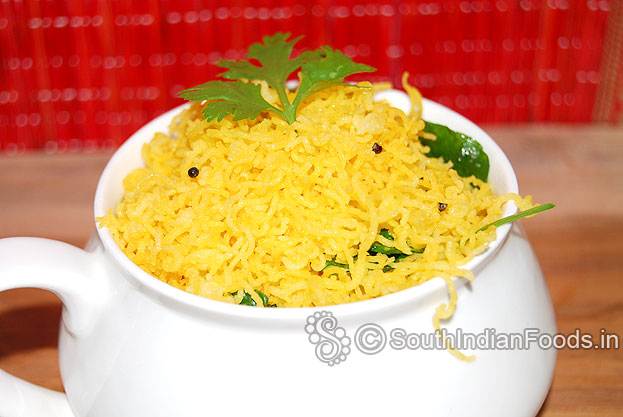 Rate this recipe
You may also like these recipes


Veg burger with samak rice balls
Bread Bun[Salted,...
Read More >>

Cauliflower Kurma
Cauliflower – 1 cup. Sambar onion...
Read More >>

Hotel Idli Sambar
Though everyone hates hotel food some times we...
Read More >>

Kara Kuzhambu
Brinjal - 3 nos. Small Onion (Sambar Onion) - 10...
Read More >>

Simple thakkali kuzhambu
Tomato – 4 [chopped]...
Read More >>

Tomato chutney
Tomato – 3 [chopped]. Onion – 2 [sliced]. Coconut – 1 tbsp...
Read More >>

Tomato kurma
Tomato – 4 [chopped]. Onion – 1 [sliced]. Ginger...
Read More >>

Kathirikai gothsu
Egg plant [brinjal, Kathirikai]– 1 big.Tamarind...
Read More >>
Recipes by Categories