Mulaikattiya Karuppu Ulundhu (Black Urad Dal Sprouts) Puttu

By
Sridher
Cuisine Style: India | Cooking Time: 15 minutes | To Serve: 2 | Take with: banana | Type: Breakfast or Dinner
Ingredients
Black urad dal sprouts* - 1 cup
Jaggery [grated] - ¼ cup
Cardamom powder - ½ tbsp
Grated coconut - ½ cup
Banana - 1
Ghee - 2 tbsp
*Soak Urad dal for 8 hours, drain the water and place it in a hot box, cover it & leave it for 7 hours or spread soaked black urad dal over the cotton cloth then cover it & leave it for another 7 hours for sprouts.
Preparation
In a blender coarsely grind black urad dal sprouts. Transfer ground sprouts to a bowl then add ghee, jaggery, Cardamom powder and coconut then mix well.
Fill this mixture in puttu kutty[ puttu vessel] and steam it for 10 min. serve hot with banana
Note
Loosely fill the puttu kutty do not dump tightly

Puttu maker | puttu kutti | puttu kuzhal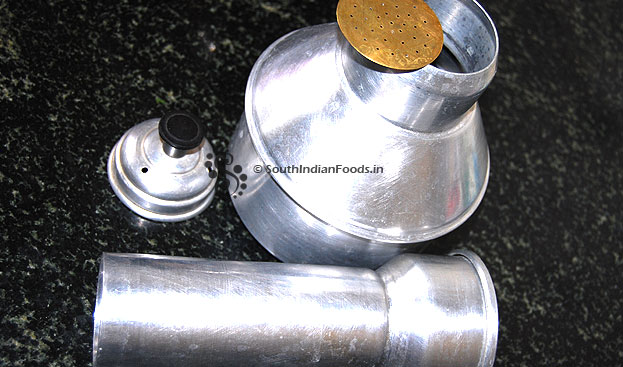 Tip
Sugar can also be used instead of Jaggery
If you don't have puttu kutty use Idli cooker / steamer

Rate this recipe
You may also like these recipes

Kadala curry
Chickpea – 1 cup [wash & soak overnight then...
Read More >>

Rava Idly
Mix 1 cup of rava with ½ cup curd and ¼ cup water...
Read More >>

Senai kizhangu varuval
Senai kizhangu [Elephant...
Read More >>

Murungakkai sambar
Murungakkai [drumstick] - 2. Toor dal – 1 cup...
Read More >>

Aloo Rajma Cutlet
Rajma - ½ cup [soaked and boiled]. Rajma...
Read More >>
Recipes by Categories