Beetroot rajma masala gravy | Beetroot red kidney beans curry

By
Sridher
Cuisine Style: North India | Cooking Time: 20 minutes | To Serve: 4 | Type: Gravy, Curry | Take With: Roti,Chapati,Paratha,Naan,Rice
Ingredients
Beetroot – 1
Rajma [Red kidney beans] – 1 cup
Tomato – 3 [chopped]
Cashew nut paste – ½ cup [ soak cashew nuts in warm milk for 5 min then grind to fine paste]
Green chilli – 1 [slit]
Onion – 1 [sliced]
Garlic – 1 tbsp [grated]
Ginger – 1 tbsp [grated]
Cumin seeds - 1 tbsp
Star anise – ¼ pieces
Cloves - 2
Bay leaves - 1
Cinnamon stick – ½ pieces
Green cardamom - 2
Cumin powder – ½ tbsp
Coriander powder – ½ tbsp
Pepper powder – a pinch
Garam masala powder – ¼ tsp
Turmeric powder – ¼ tsp
Red chilli powder – ¼ tsp
Coriander leaves – 2 springs [chopped]
Salt to taste
Sugar – ¼ tsp
Butter – 2 tbsp
Oil – 1 tbsp
Water as needed
Preparation
Wash & soak rajma beans overnight then boil in a pressure cooker for 5 whistles.
Peel of the beetroot skin then grate.
Heat oil & butter in a pan add cumin seeds, cardamom, cloves, star anise, bay leaves, & cinnamon sauté.
Add onion sauté till golden brown then add ginger & garlic sauté.
Add green chilli & beetroot sauté. Then add 3 tbsp of water cook till soft.
Add tomato sauté till soft. Then cut off heat. Leave it for cool. Then remove bay leaves, cardamom, cloves, cinnamon stick, & star anise.
Add beetroot mixture in a blender blend nicely.
Heat another pan add ground beetroot mixture, boiled rajma, salt, turmeric powder & red chilli powder let it boil.
Add cashew nut paste mix well. Then add coriander, cumin, pepper & garam masala powder mix well.
Add chopped coriander leaves & cut off heat. Garnish with butter & serve hot with chapatti or rice.
Tip
Dry roast kasoori methi then crush, sprinkle over the gravy for rich aroma
Add fresh cream at the end.
Beetroot red kidney beans curry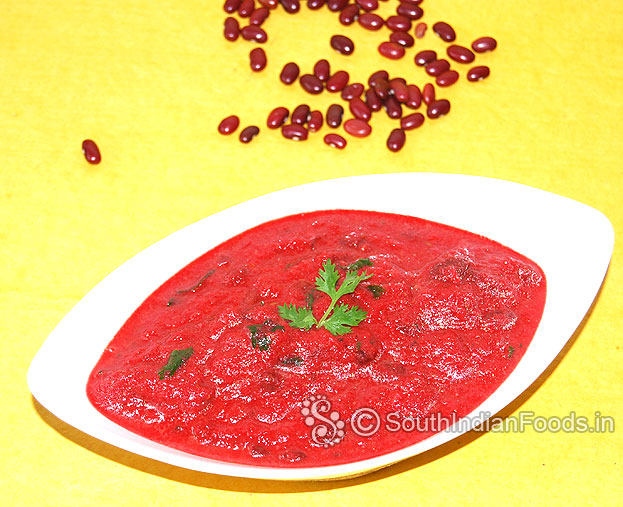 Rate this recipe
You may also like these recipes

Vegetable stew
Carrot -1 [cut into cubes]. Green peas – ½ ...
Read More >>

Coconut chutney
Coconut - ½ cup [chopped]. Roasted gram...
Read More >>

Cauliflower Kurma
Cauliflower – 1 cup. Sambar onion...
Read More >>

Kara Kuzhambu
Brinjal - 3 nos. Small Onion (Sambar Onion) - 10...
Read More >>

Ragi semiya kheer
Ragi semiya [vermicelli] – ¼ cup. Jaggery – 3...
Read More >>

Ven pongal
Rice [Boiled rice, Raw rice] – 1 cup. Moong dal...
Read More >>

Simple thakkali kuzhambu
Tomato – 4 [chopped]...
Read More >>

Tomato kurma
Tomato – 4 [chopped]. Onion – 1 [sliced]. Ginger...
Read More >>

Kathirikai gothsu
Egg plant [brinjal, Kathirikai]– 1 big.Tamarind...
Read More >>

Mini thayir vadai
Urad dal – 1 cup. Curd – 2 cups. Sambar...
Read More >>

Murungakkai sambar
Murungakkai [drumstick] - 2. Toor dal – 1 cup...
Read More >>

Sweet potato cheese balls
Sweet Potato[Sakkaravalli...
Read More >>

Green gram vada
Green gram [Pachai payaru] – ¾ cup. Thatta...
Read More >>

Crispy onion pakoda
Onion – 2 [Sliced], Gram flour – ½ cup, Rice...
Read More >>
Recipes by Categories