North Indian Recipes > Beetroot kofta curry | Beetroot paneer kofta in white sauce | Cashew nut gravy with beetroot kofta
Beetroot kofta curry | Beetroot paneer kofta in white sauce | Cashew nut gravy with beetroot kofta

By
Sridher
Cuisine Style: North India | Cooking Time: 25 minutes | To Serve: 4 | Type: Gravy | Take With: Roti,Chapati,Paratha,Naan,Rice
Ingredients For Koftas
Beetroot - 1 cup [finely grated]
Paneer – ¼ cup [Grated]
Potatoes - ½ cup [boiled & mashed]
Onion – 1 [finely chopped]
Ginger and green chilli paste – 1 tbsp each
Lemon juice – ½ tbsp
Plain flour [Maida] – 2 tbsp
Bread crumbs – 2 tbsp
Turmeric powder – ½ tsp
Red chilli powder -1 tsp
Garam masala powder – 1 tsp
Dil seeds- ½ tbsp
Coriander leaves, curry leaves – 2 tbsp [Chopped]
Oil – 2 tbsp
Sugar a pinch
Salt to taste
Method for making koftas
Heat oil in a pan add dil seeds, onion sauté till light brown then add ginger and green chilli paste then add curry leaves, grated beetroot sauté gently. Sprinkle 1 tbsp of water.
Add turmeric powder, red chilli powder, salt, garam masala powder and sprinkle plain flour
Add bread crumbs, mashed potatoes, grated paneer mix well then cut off heat
Add chopped coriander leaves, sugar and lemon juice. Keep it aside.
Divide the dough into equal size balls. Roll with flour then deep fry half of the balls.
Place the remaining balls in idli cooker then steam for 3 to 5 mins.
Ingredients for Cashew nuts Curry / Gravy
Cashew nuts paste – 1 cup [soak Cashews in milk for 5 min then grind to fine paste]
Coconut milk – ½ cup [grate coconut, put it in mixer jar&grind well with 1/4 cup of water]
Potatoes [boiled, mashed] - 2 tbsp
Paneer – 2 tbsp [grated]
Curry leaves – 1 spring
Onion, garlic and ginger paste – 1 tbsp each
Green cardamom -1
Cinnamon – ½ stick
Bayleaf - 1
Green chilli - 1
Fresh Curd [well Beaten] – 1 tbsp
Oil – 1 tbsp
Butter – 1 inch cube
Method for curry
Heat pan with oil add Green cardamom, Cinnamon stick, Bay leaf and onion paste, sauté gently add ginger and garlic paste.
Add green chilli and curry leaves, then add mashed potatoes sauté gently.
Add Coconut milk and cashew nut paste cook well.
Now add grated paneer and curd mix well then add salt. Once cooked filter the gravy.
Heat another pan then add butter then add cashew nut gravy stir gently.
Then add steamed and fried beetroot koftas then cut off heat. Serve hot with rice, naan or Chapathi.
Cashew nut gravy with beetroot kofta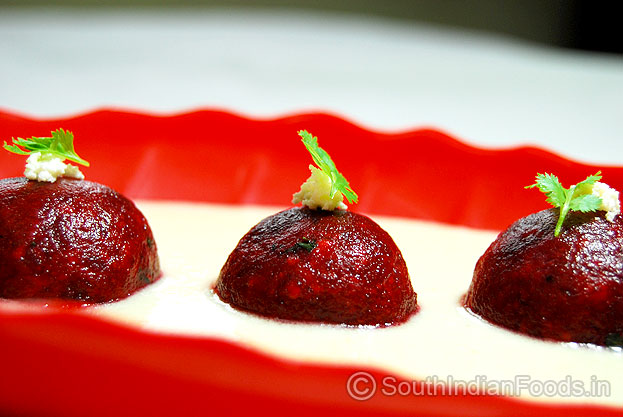 Rate this recipe
You may also like these recipes

Pudalangai poriyal
Pudalangai [Snake gourd] –1 cup. Onion – 1...
Read More >>

Medhu vadai
Urad dal – 1 cup. Green chilli - 1 [finely chopped]...
Read More >>

Thinai upma
Thinai [Foxtail Millet]- 2 cups. Onion-1. Carrot...
Read More >>

Beetroot rava kesari
Sooji / Ravai - 1 cup. Beetroot Juice - 1 cup...
Read More >>

Coconut ragi semiya
Ragi semiya – 200 gram. Coconut – 1 cup...
Read More >>

Kuthiraivali rice
Kuthiraivali rice (Barnyard millet) - 1 cup. Water - 2...
Read More >>

Idiyappam
Rice flour – 1 cup. Oil – 2 tbsp. Salt to taste. Warm...
Read More >>

Radish Sambar
Radish [Mullangi] – 3. Toor dal – ¼ cup. Sambar...
Read More >>

Aloo matar dry
Potato [aloo, urulaikizhangu] – 1 cup [cut in to...
Read More >>

Veg poha khichdi
Aval [poha or Flattened rice] – 1 cup. Onion – 1...
Read More >>

Moong dal ladoo
Moong dal – 1 cup. Green Cardamom powder..
Read More >>

Samak rice pudding
Samak rice [Little Millet, samai arisi] – 1 cup...
Read More >>

Tomato Rice
Generally tomato Rice differs according to their...
Read More >>

Karamani sundal
Karamani [cowpea] – 1 cup. Coconut – ½...
Read More >>
Recipes by Categories