Rice Varieties > Beetroot biryani | Beetroot pulao-Easy lunch box recipe
Beetroot biryani | Beetroot pulao-Easy lunch box recipe

By
Sridher
Cuisine Style: India | Cooking Time: 20 minutes | To Serve: 2 | Take with: Salna, Kurma, raita,pachadi | Type: Lunch
Ingredients
Basmati rice or jeera rice – 1 cup
Beetroot - ¼ cup [cut into cubes]
Green peas - 2 tbsp [fresh]
Onion – 1 [sliced]
Green chilli - 1 [sliced]
Ginger – 1 tbsp [grated]
Garlic – 1 tbsp [grated]
Fennel seeds – 1 tbsp
Green cardamom - 2
Cinnamon stick- 1
Cloves - 2
Garam masala – ½ tsp
Red chilli powder – ½ tbsp
Turmeric powder – ¼ tsp
Mint leaves – 3 springs
curd - 2 tbsp
Salt to taste
Ghee – 1 tbsp
Oil – 2 tbsp
Water –1 ¾ to 2 cups
Preparation Method
Wash & soak basmati rice for ½ an hour.
Heat pressure cooker with oil & ghee. Add green cardamom, fennel seeds, cinnamon stick, cloves, fry till you get nice aroma
Add onion sauté till light brown
Add ginger & garlic sauté.
Add green chilli, green peas & beetroot saute.
Add mint leaves saute.
Add turmeric, garam masala & red chilli powder mix well.
Then add basmati rice mix well.
Add water, curd, salt & mint leaves mix well & let it boil.
Then cover it & cook for 3 to 4 whistles.
Sprinkle mint leaves & serve hot with salna kurma and raita.
Beetroot pulao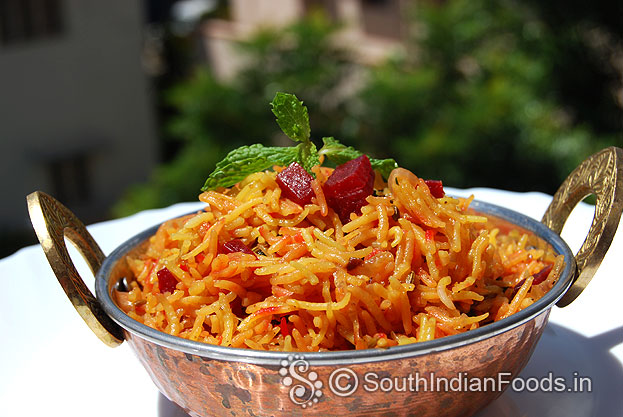 Rate this recipe
You may also like these recipes

Oyster mushroom pakora
Oyster mushroom [Kalan]...
Read More >>

Mushroom masala pasta
Fusilli Pasta [Durum wheat...
Read More >>

Poha vada
Moong dal [Pasiparuppu]– ½ cup. Bengal gram...
Read More >>

Onion samosa
Onion – 3 [sliced]. Carrot – 1 [finely chopped]...
Read More >>

Aloo mushroom gravy
Potato [Aloo] – 2 [cut into 1 inch thin squares and...
Read More >>

Pottukadalai ellu laddu
Roasted gram [Pottukadalai...
Read More >>

Onion raita
Curd / yogurt – 1 cup [fully whisked]...
Read More >>

Murungai keerai kootu
Murungai keerai [Drumstick...
Read More >>

Cucumber pachadi
Cucumber – 2 small [cut in to cubes]. Green chilli...
Read More >>

Senai kizhangu chips
Senai kizhangu [Elephant foot yam] – half...
Read More >>

Lemon pickle
Lemon – 9. Gingelly oil – 50 ml. Mustard seeds – 1 tbsp...
Read More >>

Recipes by Categories