Barnyard millet spinach dal rice | Kuthiraivali keerai paruppu sadam-How to make-Video

By
Sridher
Cuisine Style: Ancient Tamil Nadu | Cooking Time: 10 to 15 minutes | To Serve:3 | Type: Breakfast, dinner, Weight loss & Easy diabetic recipes
Ingredients
Kuthiraivali [Barnyard millet,jhangora] – 1 cup
Toor dal dal – ½ cup
Spinach [Greens, Palak keerai] – 1 handful [washed, plucked & chopped]
Small onion - 8
Garlic - 5
Cumin seeds - 1 tbsp
Turmeric powder - 1/4 tsp
Salt to taste
Water -6 cups
Sesame oil- 2 to 3 tbsp
For seasoning [Ingredients]
Mustard seeds - 1 tbsp
Dry red chilli -3
Curry leaves – 1 spring
Asafetida – 1/4 tsp
Preparation
Wash toor dal, & barnyard millet then soak barnyard millet for 10 min.
In a broad pan add 3 cups of water let it boil
Then add toor dal, cumin seeds, garlic, sambar onion and turmeric powder cook till soft.
Then add 3 cups of water let it boil
Add barn yard millet mix well, cover it and cook for 10 min on medium flame.
Heat 1 tbsp oil a pan add spinach saute for 2 min.
Then add this to barnyard millet mixture
For seasoning:- Heat pan with oil add mustard seeds, dry red chilli, asafetida and curry leaves.
Add seasoned ingredients into the millet and add salt mix well.
Serve hot with pickle.
How to make Kuthiraivali keerai paruppu sadam video
jhangora dal rice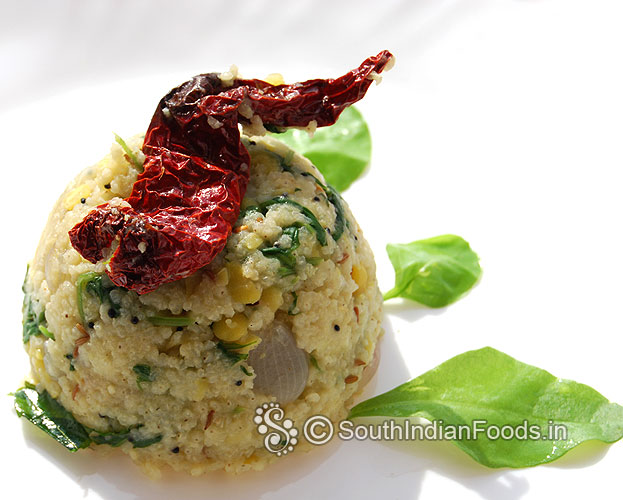 Rate this recipe
You may also like these recipes

Idiyappam
Rice flour – 1 cup. Oil – 2 tbsp. Salt to taste...
Read More >>

Neer dosa
Sona masoori rice – 1 cup. Grated coconut...
Read More >>

Raw banana kofta curry
Raw banana – 1 [boiled...
Read More >>

Shavige bath
Semiya [vermicelli] – 200 gram. Lemon juice – 2 tbsp...
Read More >>

Curry Leaves Chutney
Curry leaves - 2 cups, Small onion - 4, Red chilli...
Read More >>
Recipes by Categories